Solution Includes SmartFusion Evaluation Kit and Motor Control Daughter Board Kit
Microsemi Corporation, a leading provider of semiconductor solutions differentiated by power, security, reliability and performance, and TRINAMIC today announced the availability of a new motor control kit allowing designers to lower product-development costs and bring products to market quickly. The solution includes Microsemi's SmartFusion™ evaluation kit and TRINAMIC's motor control daughter board kit.

Microsemi's award-winning SmartFusion customizable system-on-chip (cSoC) combines three features crucial for successful implementation of complex motor control algorithms: an embedded microcontroller, programmable analog and field programmable gate array (FPGA). This integration creates an ideal platform to partition software and hardware architectural requirements.
SmartFusion's embedded ARM Cortex™-M3 microcontroller is utilized for system layer task management, algorithm execution and system connectivity. The onboard programmable analog provides full sense and control for voltage, current and temperature monitoring. The flash FPGA logic enables hardware acceleration and math co-processing. In addition, computational/cycle intensive algorithmic routines can be implemented within the FPGA to execute extremely fast and efficient subroutines.
About the Motor Control Kit:
Microsemi SmartFusion Evaluation Kit - Key Features
A2F200M3F-FGG484ES device
200,000 system FPGA gates, 256 KB flash memory, 64 KB SRAM, and additional distributed SRAM in the FPGA fabric and external memory controller
Peripherals include Ethernet, DMAs, I2Cs, UARTs, timers, ADCs, DACs and additional analog resources
SPI-flash memory connected to SPI_0 on the device
USB connection for programming and debug
USB to UART connection to UART_0 for HyperTerminal examples
10/100 Ethernet interface with on-chip MAC and external PHY
RVI header for application programming and debug from either Keil or IAR systems
Mixed-signal header for daughter card support
TRINAMIC Motor Control Daughter Card - Key Features
Parallel operation of BLDC & stepper motor (requires two power supplies)
Hall sensor interface, ABN encoder interface
Tightly connected to the SmartFusion analog IOs and analog computing engine (ACE)
All signals of the mixed-signal header can be accessed via a pin header for test and measurement
Independent voltage supplies for stepper and BLDC block
Other Kit Components
1 stepper motor with 1.8 degree step angle
1 brushless DC motor with Hall sensors
1 portable desktop power supply (24V/1A) with international plugs
Example designs available for download
Pricing and Availability
The SmartFusion Dual Motor Control Kit is available for ordering now. List price for the bundled motor control kit is $549. Contact a local Microsemi or TRINAMIC sales representative to purchase the kit.
About Microsemi
Microsemi Corporation (Nasdaq: MSCC) offers a comprehensive portfolio of semiconductor solutions for: aerospace, defense and security; enterprise and communications; and medical, industrial and alternative energy markets. Products include high-performance, high-reliability analog and RF devices, mixed-signal and RF integrated circuits, customizable SoCs, FPGAs, and complete subsystems. Microsemi is headquartered in Aliso Viejo, Calif., and has approximately 3,000 employees globally. Learn more at www.microsemi.com.
About TRINAMIC
TRINAMIC Motion Control GmbH & Co. KG is a fables semiconductor company providing high-precision motion controller and motor driver ICs and mechatronic systems to OEMs in biotech, medical, instrumentation, printing, robotics, and dozens of other markets and applications where precise control of motors is required. Based in Hamburg, TRINAMIC designs and sells its ICs board-level and system-level hardware modules and motion-control software all over the world. The modules combine TRINAMIC's dedicated stepper and brushless control and driver ICs with extensive experience in designing custom and off-the-shelf motion control solutions. Visit www.trinamic.com for more information.
Featured Product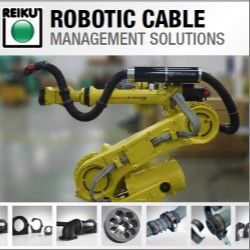 REIKU's Cable Saver™ Solution eliminates downtime, loss of revenue, expensive cable and hose replacement costs, maintenance labor costs. It's available in three sizes 36, 52 and 70 mm. All of the robots cables and hoses are protected when routed through the Cable Saver™ corrugated tubing.The Cable Saver™ uses a spring retraction system housed inside the Energy Tube™ to keep this service loop out of harms way in safe location at the rear of the Robot when not required. The Cable Saver™ is a COMPLETE solution for any make or model of robot. It installs quickly-on either side of the robot and has been tested to resist over 15 million repetitive cycles. REIKU is committed to providing the most modular, effective options for ensuring your robotic components operate without downtime due to cable management. www.CableSaver.com