High-performance system combines optical and electrical signaling in one connector; helping provide cost savings and simplify installation
LISLE, IL - February 7, 2012 - Molex Incorporated introduced today the MediSpec™ Hybrid Circular MT Cable and Receptacle System, an integrated optical and electrical solution that reduces the number of connectors required in medical equipment and devices. The multifunctional connector uses Molex's circular MT optical connector and receptacle technology, providing three configurable MT ferrule compatible ports for a combination of copper or fiber media carrying electrical power, low speed copper signaling, optical data or video signals. This integrated technology may be incorporated into a custom solution to meet an end user's specific requirements.

The MediSpec Hybrid Circular MT system, which will be on display at MD&M West, February 14-6, Anaheim, CA, booth 2074, offers a more streamlined approach to medical system design and is ideal for a variety of applications including robotic surgery, neurosurgery, orthopedic surgery, diagnostic imaging, optical coherence tomography, guidance/illumination/navigation, interventional energy lasers and Picture Archival Communications.
"Medical equipment manufacturers are being driven to develop more advanced optical and electrical interconnects, while at the same time reducing complexity for the end user and minimizing costs," said Eve Leal, program manager, Molex. "By combining both the optical ferrules and electrical contacts in one interface, the MediSpec Hybrid Circular MT system streamlines the number of connectors a customer needs to deploy, helping simplify installation, increase aesthetics and reduce costs."
For the PC board or equipment side, the MediSpec Hybrid Circular MT system offers various options of Molex connectors, including optical MT, LC and SC along with electrical connectors such as Micro-Fit 3.0™, MicroClasp™ and various RJ-45 jacks.
Other features that make the MediSpec Hybrid Circular MT Connectors and Receptacles well-suited for medical systems include:
* Metal and medical-grade polymer connector housing options: Metal housing provides a robust connector to withstand harsh environments and offers EMI shielding, while the polymer housing is lightweight and ideal for sensitive applications, including MRI and PET scans.
* Expanded beam MT ferrule option: Helps reduce optical loss due to contamination, protects fibers from debris, scratching, pitting and provides long-term connection reliability, a critical requirement of medical equipment.
* Fiber counts range from 1 to 24 fibers per ferrule: Accommodates multimode expanded beam 12-fiber ferrules and/or traditional multimode and singlemode MT ferrules for a variety of signaling, sensing or power carrying applications used in medical fiber optic-based products and technologies.
For more information on the MediSpec Hybrid Circular MT Cable and Receptacle System please visit www.molex.com/link/medispechybridcircular.html. To receive information on other Molex products and industry solutions, please sign up for our e-nouncement newsletter at www.molex.com/link/register/.
About Molex Incorporated
Providing more than connectors, Molex delivers complete interconnect solutions for a number of markets including data communications, telecommunications, consumer electronics, industrial, automotive, medical, military and lighting. Established in 1938, the company operates 40 manufacturing locations in 16 countries. The Molex website is www.molex.com Follow us at www.twitter.com/molexconnectors watch our videos at www.youtube.com/molexconnectors, connect with us at www.facebook.com/molexconnectors and read our blog at www.connector.com
Featured Product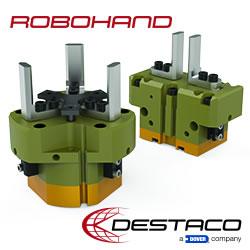 Automatically change end effector tooling quickly and easily with Destaco's Automatic Tool Changers. Designed with exceptional repeatability, high rigidity and load capacity, they are perfect for multiple tooling applications utilizing one robot. We offer different models and sizes to handle light-duty to heavy-duty applications. Our RQC/RTP Series provides a high level of flexibility with a configurable, modular design that accommodates up to four optional modular interfaces.