TORC Robotics Increasing Speed and Operational Capability for the USMC Optionally Unmanned GUSS (Ground Unmanned Support Surrogate) Program
BLACKSBURG, VA (February 13, 2012) - The USMC's GUSS (Ground Unmanned Support Surrogate) underwent a weeklong Limited Technical Assessment (LTA) at the Fort Pickett Army National Guard Maneuver Training Center. The autonomous vehicles, part of the Marine Corps Warfighting Lab's (MCWL) unmanned ground vehicle program, have completed four LTAs and one Enhanced Company Operation (ECO) Limited Objective Experiment (LOE) since the project kickoff in June of 2009. The multi-mission autonomous vehicles lighten the load of the dismounted Warfighter and increase the durations units can operate independently.

This LTA involved Marines operating two upgraded GUSS autonomous vehicles to conduct resupply, dismount support, and RSTA operations. Unmanned operations took place over a variety of off-road terrain, trails and through mock checkpoints and villages. Many of the improvements made to the system since the extended-LTA at Camp Lejeune last May were evaluated. These include:
-Additional Follow-Me modes to better align with the Marine Corps TTPs and CONOPS
-Increased autonomous speeds in off-road environments
-Integration with QinetiQ's Tactical Robotic Controller (TRC) for man-packable operator control, which also includes the OEM SafeStop™ as part of the TRC's Ground Vehicle Control Module (GVCM)
-Operator interface improvements that reduce user time-on-terminal
TORC upgraded GUSS' perception sensors and the AutonoNav™ autonomous navigation software to increase operational speed and improve ability to traverse complex off-road terrain even in the presence of obscurants. GUSS now has a full, 360º sensor coverage and improved range to ensure safe operation in close proximity to dismounted Marines. The upgraded capabilities allow GUSS to avoid traps that slow operational tempo and permits extended operation in the absence of GPS.
The GUSS project is a development effort between TORC, MCWL, the Naval Surface Warfare Center (NSWC), and Virginia Tech. GUSS supports an ongoing series of assessments and experiments for MCWL that aid in establishing current capabilities of unmanned support vehicles and evaluating the Tactics Techniques and Procedures (TTP) for their use in new technology development. The fleet of GUSS vehicles leverages autonomous technology from the DARPA Urban Challenge and a number of ongoing DoD-funded research projects. This technology enables multiple levels of autonomy and provides the Marines with an unmanned support vehicle that will travel across a wide variety of terrain at an operational tempo. This autonomy has a transition path to future autonomous vehicles and adapts with a variety of end-user-specific missions. The GUSS systems will participate in a LOE in Q3-2012 where TORC will train Marines to use the systems prior to an operational exercise.
TORC integrated four ByWire™, Tele-op and Autonomous Vehicle Kits on Polaris MVRS700 6×6 platforms for the GUSS program. Dismounted users can command GUSS using the handheld WaySight™ or a FalconView-based operator terminal on the TRC. The GUSS vehicles operate autonomously off-road at operational speeds using LIDAR and EO/IR cameras. For more information, visit TORC Robotics online or contact Andrew Culhane at 1-540-443-9262.
Featured Product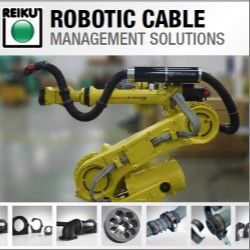 REIKU's Cable Saver™ Solution eliminates downtime, loss of revenue, expensive cable and hose replacement costs, maintenance labour costs. It's available in three sizes 36, 52 and 70 mm. All of the robots cables and hoses are protected when routed through the Cable Saver™ corrugated tubing. The Cable Saver™ uses a spring retraction system housed inside the Energy Tube™ to keep this service loop out of harms way in safe location at the rear of the Robot when not required. The Cable Saver™ is a COMPLETE solution for any make or model of robot. It installs quickly-on either side of the robot and has been tested to resist over 15 million repetitive cycles.