Intralogistics experts help FANUC FA America integrate an automated motion control system for optimized CNC System inventory management
ELK GROVE, Ill.--FANUC Factory Automation America (FANUC FA America), the world's largest manufacturer of CNCs (computer numerical controls), and Wynright Corporation, the nation's leading designer of intelligent material handling systems, have teamed up to automate and optimize FANUC FA America's CNC system inventory management utilizing many FANUC CNC innovations for the first time in the U.S.

"Wynright played an integral role in designing and implementing our automated inventory system"
The automated Goods to Person (GTP) system, designed by Wynright, provides FANUC FA America with an automated motion control system for CNC system inventory management - complete from ordering to shipment. The system streamlines the entire process including local-level inventory management control with direct communication to FANUC's ERP host system.
"Wynright played an integral role in designing and implementing our automated inventory system," said Zach Heuer, General Manager, IT at FANUC FA America. "Together, we analyzed our inventory process and re-engineered it for optimum efficiency - to better position ourselves for today's business as well as for future business."
Wynright designed the GTP system to integrate unit-load ASRS and ergo-assist cranes with a vertical lift module, improving operator ergonomics and isolating inventory in a secure environment. The versatile system also enables FANUC FA America to handle variations in velocity as inventory is being managed within its facility.
"The FANUC FA America automated inventory system is an excellent demonstration of Wynright's innovative approach to designing factory automation systems," said Paul Deveikis, Wynright's division president for Elk Grove Engineering and Integration. "Our team of 200 engineers constantly seeks to create systems for our customers that focus on their desired business outcomes, instead of just trying to make products fit into a one-size-fits-all solution. Our tenacity and willingness to dig deep into business requirements and processes provides a significant competitive advantage for companies such as FANUC FA America."
Wynright's design integrated many of FANUC's CNC innovations in a motion control application for the first time in the U.S. This includes innovations in CNC, servo motor, connectivity and integrated automated solutions; the first installation in the U.S. of FANUC's 35i-B CNC; the first wheeled vehicle controlled by a FANUC CNC in the U.S.; the first application of the newly designed FANUC αif 40/3000hv servo motor in the U.S.; the first FANUC EtherNet/IP installation in the U.S. integrating a FANUC CNC and PAC (programmable automation controller) in an application.
About Wynright
Wynright Corporation is the nation's leading independent, U.S.-based provider of intelligent material handling systems. With more than 200 engineers in-house, the company designs, manufactures, integrates and installs the full spectrum of intralogistics solutions, offering both Wynright-branded and third-party equipment to meet customer needs. These include leading-edge conveyor and sortation systems, voice and light directed order fulfillment equipment, a suite of warehouse controls & execution software, robotics, mezzanines, and structures, all backed by critical round-the-clock service and support.
Since its founding in 1972, Wynright has been a trusted partner to some of the world's largest and fastest-growing companies, showing them how to use their space more efficiently to deliver improved productivity, today and tomorrow. For more information on our services, technology and product portfolio, please visit www.wynright.com.
About FANUC Factory Automation America (FANUC FA America)
FANUC FA America is the exclusive provider of industry leading FANUC CNC systems and solutions in the Americas, providing a one-stop shop for comprehensive CNC solutions including industry-leading control systems, a complete range of drives and motors and CO2 laser solutions. FANUC FA America also offers engineering support, genuine FANUC parts, repair and factory automation solutions and training programs to machine tool builders, dealers and users. FANUC CNC systems are known throughout the world for their high reliability, high precision, high speed and simple operation.
FANUC FA America headquarters is located in Hoffman Estates, IL and supports 37 offices and service centers throughout U.S., Canada, Mexico, Brazil and Argentina.
For more information, contact FANUC FA America, 1800 Lakewood Boulevard, Hoffman Estates, IL 60192, phone: 888-FANUC-US (888-326-8287), e-mail: fanuc.marketing@fanucfa.com, website: www.fanucfa.com.
Featured Product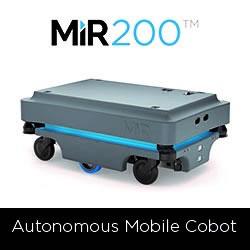 MiR200 is a safe, cost-effective mobile robot that automates your internal transportation. The robot optimizes workflows, freeing staff resources so you can increase productivity and reduce costs. MiR200 safely maneuvers around people and obstacles, through doorways and in and out of lifts. You can download CAD files of the building directly to the robot, or program it with the simple, web-based interface that requires no prior programming experience. With its fast implementation, the robots offers a fast ROI, with payback in as little as a year.