Discover how micromanufacturing is changing the way things are made in nearly all industries at the 10th annual SME MicroManufacturing Conference and Exhibits, March 28-29, Boston.
Dearborn, MI February 24, 2012

Discover how micromanufacturing is changing the way things are made in nearly all industries at the 10th annual SME MicroManufacturing Conference and Exhibits, March 28-29, Boston.
It hardly matters what is being manufactured anymore; it likely includes micromanufacturing technology - or probably should.
Industries as wide ranging as consumer products and defense, to automotive and medical, are increasingly calling for diminutive devices and components with micro-scale features. With applications in nearly every manufacturing area, understanding how micromanufacturing is different from traditional manufacturing is key to understanding how it will improve manufacturing processes.
Clarifying these differences is the primary purpose of the MicroManufacturing Conference & Exhibits in Boston, Mass., March 28-29, 2012. With content direction from a committee of industry experts, this event is produced by the Society of Manufacturing Engineers as an opportunity for manufacturing professionals to explore the wide-spanning impact of this tiny technology.
"Manufacturing things at the micro level enables us to do more, be more precise, use less space and to integrate functionality where it couldn't be done before," said Lauralyn McDaniel, event manager. "And as these benefits are recognized in one industry or process, they are quickly being adopted by another. So if you're not micromanufacturing today, you will be soon, and you need to familiarize yourself with its unique characteristics."
The conference offers content for those who are just curious about these technologies, those who are currently using the technologies and those who are ready to expand their current micromanufacturing capabilities.
The MicroManufacturing Conference presentations will discuss how to improve the quality of micro manufactured parts, compare micro processes available and find the technology and process best for many different applications, sharing real examples that not only illustrate how to use the technologies, but also what not to do. Conference sessions will include strong focuses on micro machining, micro molding and metrology.
Attendees can network with experts and peers in these fields, have specific problems solved by industry experts and find solution vendors for nearly every micromanufacturing challenge.
This year's event includes an Emerging Technology and Application area that will feature micro forming, microchannel manufacturing, manufacture of microfluidic devices, and micro laser sintering for series production. Additionally, several companies will unveil new products that advance micromanufacturing technologies including two new machining centers from PEM Technologies.
This event is co-located with NanoManufacturing Conference and Exhibits which covers a broad range of topics including metrology - because "if you can't measure it, you can't make it" - nanostructure manufacturing techniques, the future applications of graphene in every day products, occupational and environmental health and safety concerns and antimicrobial technologies for medical devices.
Both events have been designed based on feedback that the most valuable part of attending an SME conference is the people they meet and the resources they gain. To encourage the synchronistic collaboration, the sessions are shorter and breaks are longer, the exhibits have been arranged "in the round" to promote discussion, and the Conversation Connection areas are ideal for having in-depth conversations with colleagues. Attendees of either conference can go back and forth between the two and tailor this event to their own interests and needs.
For those who are new to the technology, need a refresher or just want to explore the topic in more depth, pre-conference workshops and tours of iRobot® and the Center for High-Rate Nanomanufacturing/Kostas Nanomanufacturing Research Center are also available.
For more information about either event, visit sme.org/micro or sme.org/nanomanufacturing.
SIDEBAR
Why Boston?
Boston has one of the highest concentrations of MicroManufacturing & NanoManufacturing professionals in the world.
*Massachusetts has the second largest concentration of medical device manufacturing and development in the US.
*Massachusetts' $10B aerospace and defense industry is home to several companies with strengths ranging from systems integration to research and development, command, control, communications, and intelligence, robotics, underwater autonomous vehicles, and advanced imaging.
*Massachusetts has become an international leader in the emerging clean energy industry. This fast-growing and fast-evolving sector includes development of new renewable energy technologies and companies that design, engineer, and construct renewable energy systems. Technologies include photovoltaic (PV), wind, solar, biomass, and geothermal.
*The Boston area has arguably the country's highest concentration of colleges and universities, many leading research in both micromanufacturing and nanotechnology.
Note to Media:
Visit the SME Media Center for the latest Society news, one-stop access to SME Events, Manufacturing Quicklinks, SME social media sites, SME News Feed and more.
About SME:
The Society of Manufacturing Engineers (SME) is the premier source for manufacturing knowledge, education and networking. Through its many programs, events, magazines, publications and online training division, Tooling U, SME connects manufacturing practitioners to each other, to the latest technologies and to the most up-to-date manufacturing processes. SME has members around the world and is supported by a network of chapters and technical communities. A 501(c)3 organization, SME is a leader in manufacturing workforce development issues, working with industry, academic and government partners to support the current and future skilled workforce.
Featured Product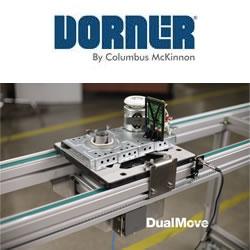 Dorner's 2200 Series Precision Move Pallet Systems are ideal for assembly automation. With features such as an innovative timing belt conveyor design and industry best pallet transfers, they get your product to the exact location, at the exact time and in the exact position it needs to be. They are now available with new options such as heavy load corner modules with 150 lb. capacity and 180 degree tight transfer corners for compact loops.