GIA announces the release of a comprehensive global report on the Industrial Robotics market. World market for Industrial Robotics is projected to reach 204 thousand units by the year 2017, driven primarily by strong growth opportunities in developing countries in Asia-Pacific, especially China. The low robot density in most industrial sectors in developing countries offers strong potential for growth. Also poised to drive future growth is increasing market penetration in non-conventional industries, such as, cosmetics, food and beverage, rubber and plastics, among others.
San Jose, CA (PRWEB) February 27, 2012

Robotic technologies have undergone sea changes, over the decades, goaded on by the need to automate the workforce and achieve zero-error tasks/operations. Incremental technology developments in chip design have transformed robots into smaller, more intelligent and less inexpensive marvels of mechatronic engineering. Convergence of robotics with cognitive science, artificial intelligence, and information technology is now helping bring closer to reality multi-dimensional intelligent robots. Robotics today is an established manufacturing technology given its reliability in enabling an automated workflow environment and capability in serving a variety of applications in large, small and medium enterprises. Growing acceptance of robotics by the workforce and change in employee perception on the use of robots, from what was earlier perceived to be a threat to their employment, to now being looked at as a key facilitating technology, has increased the adoption of robots. The manufacturing industry therefore remains a major end-use market for industrial robots. Within this sector, automotive manufacturing is a key application area. Robots have made rapid strides in the automotive manufacturing sector over the years, contributing significantly towards increasing the efficiency and productivity of automotive manufacturing, especially in application areas such as painting, welding and parts placement.
Against this backdrop, the market for industrial robotics remains sensitive to manufacturing/engineering activities and industrial production. Given the widespread diffusion of industrial robots, especially assembly line robots, robot investments in large companies are already a part of the capital structure. Being a capital expenditure, market for industrial robots is also dependent on the health of the capital goods sector. Capital rationalization processes, like the ones witnessed during the 2007-2009 recession, therefore tend to negatively impact robot installations rates in industries, such as, automotive, consumer goods, semi-conductor & electronics and rubber & plastic, among others.
EUs industrial sentiment currently remains torn between optimism and pessimism given the mixed signals emanating from the volatile manufacturing data in Spain and Italy and the encouraging industrial performance in Germany. Bearish market sentiments however indicate that an escalation in the euro crisis could precipitate a slowdown in global business in the event of the debt crisis spreading to the banking system in the United States. This in turn could cripple interbank lending activities. Also the shift from fiscal government stimulus to anti-crisis austerity and spending cuts as a measure to tame the towering public debt scenario can likely impact capital expenditure in manufacturing industries in debt affected economies by limiting borrowing and reducing investments in capital goods. Reduced ability of the government to fund capital expenditure can impact both domestic and foreign financed projects thus indirectly influencing spending on factory related capital equipment including industrial robots.
Despite the challenges ahead and uncertainties over the continued economic stability in Europe and in the United States, most market indicators for the immediate-term future feature a largely positive outlook for the manufacturing industry in the year 2012. Manufacturing production which continued to recover from 2010 through 2011 is expected to continue into the year 2012. For instance, in Germany industrial/manufacturing output is holding well as indicated by the country's yet strong export market, a key reason for the country's superior handling of its debt crisis in comparison with Greece, Portugal, Spain and Italy. Although industrial output in developing countries is expected to outstrip the same in developed countries, average annual gains witnessed in these countries nevertheless continues to remain encouraging. Given the yet unclear signs of a possible decline in industrial production either in Europe or in the international market, factory investments are expected to lead the rebound in capital goods.
While lethargy in industrial automation, particularly in US, Europe and Japan, continues to stabilize growth patterns in these countries, increased adoption of robotics will drive strong gains in the developing countries. China especially is expected to witness the maximum growth driven by rising labor costs and issues related to manufacturing efficiency and safety. Also, the growing clout of Chinese automakers in the global market is creating strong demand for robots in the domestic auto industry. Given that China remains an export oriented economy, increased spending by the Chinese government to ensure development of domestic manufacturing processes is generating strong demand for robots in packaging and palletizing applications in addition to automotive applications.
Demographic changes over the next decade, such as, aging and retirement of the current workforce will create large gaps in the workforce thus creating demand for automation and industrial robotics. In addition, shortages and exorbitantly high cost of labor for risky jobs will further unleash a search for electronic alternatives as replacements for human personnel. Unlike popular perception that labor shortages are pronounced only in the developed countries, China interestingly of late has been witnessing massive labor shortages in dangerous construction sectors, and at factories with appalling work conditions. Expansion in end-use applications is also poised to drive growth in the marketplace in the upcoming years. For instance, advantages of automation, which hitherto was focused on and reaped by the automobile industry, will now witness other industrial sectors, such as, plastics & rubber and food and beverage handling and processing, wax in popularity as lucrative end-users of robotics in parallel with the automotive industry.
As stated by the new market research report on Industrial Robotics, Europe represents the largest market worldwide. Driven by continuous shifting of manufacturing bases into Asia-Pacific, the region is forecast to witness the fastest growth, trailing a projected CAGR of 21.4% over the analysis period. Growth in the world market in general will be driven by technology advancements and the ensuing commercialization of new-age industrial robots with advanced capabilities and features. This in turn will present a range of possibilities and capabilities that were hitherto unimaginable thus attracting tremendous opportunities in diverse industry segments. Use of robotics in assembly line production is poised to score the maximum gains during the analysis period.
Major players in the marketplace include ABB Limited, Adept Technology, Inc., Denso Wave Incorporated, Evolution Robotics, Inc., FANUC Corporation, iRobot Corporation, Kawasaki Robotics (USA) Inc, KUKA Roboter GmbH, Panasonic Welding Systems Co., Ltd., Nachi-Fujikoshi Corporation, Rockwell Automation Inc, ST Robotics, STAUBLI Corporation, YASKAWA Electric Corporation, among others.
The research report titled "Industrial Robotics: A Global Strategic Business Report" announced by Global Industry Analysts, Inc., provides a comprehensive review of market trends, issues, drivers, company profiles, mergers, acquisitions and other strategic industry activities. The report provides market estimates and projections in volume sales for major geographic markets including the United States, Canada, Japan, Europe (France, Germany, Italy, UK, Spain, & Rest of Europe), Asia-Pacific, and Rest of World. End-Use segments analyzed include Assembly Line, Material Application, Material Handling (Palletizing/Packaging & Parts Transfer), Measuring/Inspecting/Testing and Welding.
For more details about this comprehensive market research report, please visit -
http://www.strategyr.com/Industrial_Robotics_Market_Report.asp
About Global Industry Analysts, Inc.
Global Industry Analysts, Inc., (GIA) is a leading publisher of off-the-shelf market research. Founded in 1987, the company currently employs over 800 people worldwide. Annually, GIA publishes more than 1300 full-scale research reports and analyzes 40,000+ market and technology trends while monitoring more than 126,000 Companies worldwide. Serving over 9500 clients in 27 countries, GIA is recognized today, as one of the world's largest and reputed market research firms.
Featured Product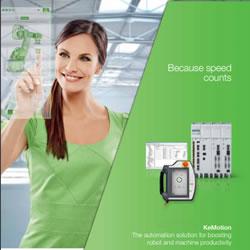 KeMotion stands for the fast, open and customizable automation of robots and machines in the Industry 4.0 era. Thanks to the scalable hardware in combination with many high-performance technology functions and turnkey software packages, the optimum solution can be created quickly and easily.