Experience a World Where Everything Intelligently Connects
LONDON, Feb. 24, 2012 -- On Monday 27 February at the Mobile World Congress 2012 in Barcelona, the GSMA will unveil the Connected House, a living future where everyone and everything can benefit from intelligent wireless connections.

Launched with AT&T, KT and Vodafone and their partners - Accenture, Airbiquity, AQ Corporation, Ericsson, Intel, KTH, Qualcomm, Rsupport, Sony and Zelitron - the GSMA Connected House will showcase how mobile technology is already improving people's lives by demonstrating the latest in connected products and services, and will be located in The Courtyard in the heart of the Fira de Barcelona.
Visitors will explore how mobile is driving innovation to deliver the Connected Life now and in the future. Inside, the latest in cutting-edge wireless technologies will show how you can make your home more intelligent, how mHealth services can improve people's wellbeing, and how connectivity in cars will keep drivers better informed. Visitors will also experience how connectivity in a range of devices will impact a number of vertical industries through cost savings and efficiencies and improve the way companies do business.
Michael O'Hara, Chief Marketing Officer, GSMA said: "The Connected Life enabled through mobile technology is already integral to our daily lives, enhancing the way we commute, look after our health, teach our children and control our home environment. With the total number of connected devices set to triple over the next decade to 24 billion, and the number of mobile connected devices set to surpass 12 billion in 2020, the Connected House will showcase the innovative solutions of today and the mobile industry's vision for the future."
Also included in the Connected House will be demonstrations of the Embedded SIM and its use in connected devices. As the mobile industry moves from connecting handsets to connecting a wide range of devices, the Embedded SIM will enable over the air provisioning of operators credentials, while continuing to deliver the assured levels of robust security and interoperability that consumers expect. The GSMA is partnering with Embedded SIM solution suppliers Gemalto and Giesecke & Devrient for this demonstration.
Other highlights will include:
AT&T
Blue Libris Personal Emergency Response System, a health monitor for seniors, patients and children. This single button mobile solution enables the real-time sensing of health information, the automatic monitoring of user location and activity and simultaneous voice communication with users.
AT&T Digital Life™, an IP-based remote monitoring and automation platform that will equip global service providers with the capabilities to offer their subscribers customisable, web-based home automation, energy and security services. The platform will enable providers to offer devices like wireless sensors and cameras that will communicate with a control center inside the home, managed through a web based user interface.
KT
KT's new Kibot robot teaches children to read, sing and speak in different languages. This robot terminal provides customised 'Smart Home' services for infants and elementary school students, assuring safety through learning, play, and home monitoring.
Experience a range of groundbreaking NFC enabled SIM-based devices including an e-Wallet offering services such as credit and cash card payments, access keys, memberships, coupons and stamps, all through your mobile phone; the Olleh WorkSpace, a collaborative work solution for tablets and smartphones; and even a Smart Flower Service, providing information on different types of flowers through terminal tagging.
Vodafone
A Tracking and Monitoring Service to help companies monitor and manage stock levels while preventing the theft of valuable assets such as refrigerators. The live demo shows how companies can check the location in real time of an ice cream cooler - and monitor whether it has been moved or stolen.
An Energy Management solution which helps businesses operating across several sites to monitor and optimise energy consumption in each of their buildings remotely. The demonstration monitors lighting, heating, air conditioning and power consumption - generating cost savings, reducing CO2 emissions and improving building maintenance management.
GSMA
The GSMA's interactive Connected Timeline and Smart City, highlighting key milestones in the past, present and future - everything from stolen vehicle tracking to teaching through tablets in schools. Also, the vision of the Connected Life in 2020 and what benefits mAutomotive, mEducation, mHealth, and the Smart Home will bring to everyday living in the future.
Press are invited to attend an exclusive tour of the GSMA Connected House at 12.15pm CET on Monday, February 27 (to RSVP please refer to contact details below).
About the GSMA
The GSMA represents the interests of mobile operators worldwide. Spanning more than 220 countries, the GSMA unites nearly 800 of the world's mobile operators, as well as more than 200 companies in the broader mobile ecosystem, including handset makers, software companies, equipment providers, Internet companies, and media and entertainment organisations. The GSMA also produces industry-leading events such as the Mobile World Congress and Mobile Asia Expo.
For more information, please visit the GSMA corporate website at www.gsma.com or Mobile World Live, the online portal for the mobile communications industry, at www.mobileworldlive.com.
Featured Product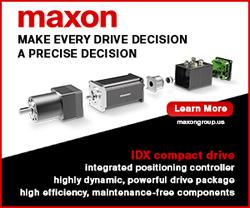 A brushless DC motor solution for use in hip and knee exoskeletons. This complete joint actuation unit consists of motor, gearhead, encoder and position controller. Fitting absolute encoder directly at the joint rotation provides designers increased positioning accuracy. The unit will deliver 54Nm of continuous torque and 120Nm on a 20% duty cycle. The system can be operated on supplies between 10 and 50V DC and the actuation speed is up to 22rpm.