The 35mm x 35mm, ARM-based ANTS device allows engineers to easily program specific, embedded functionality into a device, system or remote application
SIX-FOURS-LES-PLAGES, France, Feb. 28, 2012 -- Step Automation and Test (Step AT) today announced ANTS, a tiny, stackable, single-board computer (SBC) for embedded systems. At only 35mm x 35mm, the ANTS platform serves applications that need specific, embedded functionality in a small space. It offers customizable features, a wide range of communication protocols, and low power consumption, making it ideal for use in manufacturing, energy and academic industries.

A New Generation of SBCs
Programmable SBCs address a multitude of industrial control and embedded applications, whether installed in a rack-mount system on the factory floor or directly in a machine or device. Increasingly complex applications require a new generation of easy-to-use yet powerful SBCs. The flexible, off-the-shelf ANTS platform is one of the smallest and most cost-effective SBCs available. It is based on the NI LabVIEW Embedded Module for ARM Microcontrollers, and is well-suited for industrial and embedded applications using simplified graphical programming for a fast, out-of-box experience, ultimately helping customers create quality products while reducing cost and time to market.
SBCs are commercial-off-the-shelf (COTS) devices that require little to no board design knowledge for operation, have the flexibility of being used as a standalone board, or with certain standards, stacked on top of each other to add extra functionality, and can be used in applications with physical constraints because they do not require backplanes or card carriers. Unlike traditional COTS SBC systems purchased as a whole with unnecessary components, with ANTS, engineers can purchase only the hardware they need and easily configure the system with graphical programming.
Embedded Solutions for Manufacturing, Energy, Academic Applications
The stackable ANTS boards give engineers highly customizable features for real-time, deterministic measurements. Users can mix and match multiple boards to create a reliable solution with specific features. For example, engineers can add wireless and CAN to a specific stack, and additional analog input channels to another.
With these customizable features and small form factor, the low-power embedded computer is designed for manufacturing automation, assembly line control, industrial monitoring, mechatronics, robotics, and distributed data logging. It is ideal for applications with physical size constraints, that cover long distances, or that involve OEM or high-volume applications.
The ANTS platform empowers students to innovate in engineering courses, lab exercises, and design projects. Its tiny form factor and easy-to-use embedded programming give students a hands-on training tool that bridges the gap between theory and practical application.
Additional Specifications
The ANTS platform features analog and digital I/O, including a high-resolution, 24-bit DAQ board with 0-10V analog input. Add-on boards offer PWM, counters, and connectivity with additional buses. Step AT offers more than 15 modules and accessories to help engineers add the exact functionality they need to each application.
For more information, visit http://en.stepat.com/Products/ANTS-Embedded-Platform.
Click to tweet: @stepsas announces tiny, 35mm x 35mm SBC for industrial embedded systems based on @labview for ARM: http://bit.ly/AvJuNw
About Step Automation and Test
Step AT provides communications and control products and services for industrial, embedded and real-time control applications. As a leading National Instruments Alliance Partner, Step AT brings deep technical expertise in NI LabVIEW programming and a variety of control hardware to the manufacturing, energy, and academic industries.
Featured Product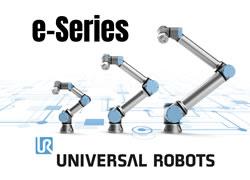 With the new e-Series cobot line, Universal Robots raises the bar for cobots, adding unique new features while significantly strengthening the four core principles defining collaborative robots: fast set-up, easy programming, flexible deployment, and safe operation. With a new built-in, tool-centric Force/Torque sensor the e-Series is ready to take on applications requiring force control right out of the box. A repeatability of 30 micron means the new cobots are suitable for very precise finishing, assembly and electronics tasks. A re-designed user interface decreases cognitive load and expedites program development, while a new externally accessible, 500Hz system bus enables more complex motion control algorithms or profiles.