Home Robots President Jeffrey Beck Named Chief Operating Officer; Joseph Dyer Named Chief Strategy Officer
iRobot Corp. (NASDAQ: IRBT), a leader in developing robotic technology-based solutions, today announced a strategic realignment of the company into three newly formed business units focused on home robots, military robots and emerging technologies. Led by Jeffrey Beck as chief operating officer (COO), the three business units will advance iRobot's long-term growth strategy as a technology leader in remote presence and automated home maintenance solutions. Joe Dyer, who most recently held the position of COO, has been named chief strategy officer (CSO). As CSO, Dyer will lead strategic business development, mergers and acquisitions, research and advanced technology development.

"We have come to a point where iRobot must align the company's organizational structure with our longer-term strategy as a technology leader focused on a core competency of creating robot-enabled solutions for a wide range of real-world problems," said Colin Angle, chairman and chief executive officer of iRobot. "The use of iRobot platforms and technologies outside of the home and military markets has grown to a point where developing new products in the existing business structure limited our potential for growth. The new structure allows us to build market-facing business units around new opportunities and energize rapid product development."
Beck has served as president of the iRobot's Home Robots division for the last three years. Under his leadership, home robot revenue grew 75 percent and gross margins increased 13 percentage points, all while dramatically improving the division's profitability, brand recognition and geographic diversity. In 2011, the Home Robots division accomplished numerous notable milestones, including the launch of two new consumer robots, the Roomba® 700 series and the Scooba® 230 floor washing robot, and the introduction of the iRobot Ava™ mobile robotics platform. Prior to joining the company, Beck served as senior vice president and general manager of AMETEK Corporation's Aerospace & Defense Division and vice president and general manager of AMETEK's Power Systems and Instruments Division.
"Jeff has made significant and meaningful contributions to iRobot, driving profitable growth strategies across the business, expanding new product distribution domestically and internationally and improving business processes," Angle continued. "As COO for the three newly formed business units and the consolidated engineering team, I am confident he will increase innovation and drive profitability across the business."
As CSO, Joe Dyer will be responsible for keeping iRobot on the cutting edge of technology innovation, identifying new applications for iRobot technology and accelerating the product development process. Dyer and Jeff Beck will report directly to Colin Angle.
"The robotics industry is evolving rapidly. A new era of opportunity is emerging through the combination of mobile technology development, cloud computing and advances in robot navigation," Angle continued. "By leveraging these advancements, robotics will play an increasingly important role in multiple vertical industries."
Following is additional detail about the three newly formed business units:
• Home Robots Business Unit
To date, iRobot has sold more than 7.5 million home robots worldwide, revolutionizing the way people clean both inside and outside the home. Marc Dinee has been named general manager of the Home Robots business unit. Dinee has been with iRobot for two years, most recently as vice president of sales and marketing for EMEA and APAC, regions where the company has experienced significant growth.
• Military Robots Business Unit
More than 4,500 combat-proven military robots have been delivered to military and civil defense forces worldwide, performing thousands of dangerous search, reconnaissance and bomb-disposal missions while protecting those in harm's way. Tim Trainer will serve as interim general manager of the Military Robots business unit. Trainer has been with iRobot for three years, serving most recently as vice president of operations for the Government and Industrial Robots division, where he was responsible for all manufacturing, contracting and program management.
• Emerging Technologies Business Unit
iRobot Ava is a breakthrough mobile robotics platform developed to help robot designers, application developers and market innovation specialists expedite the pursuit of practical, affordable mobile robotic solutions. New market opportunities for iRobot Ava in industries including healthcare, retail and security present unique opportunities. To this point, the company recently announced a $6 million investment and expanded partnership with InTouch Health, a leading remote presence telemedicine solution provider. Existing leadership will be responsible for these industry pursuits until a unit leader is appointed.
About iRobot Corp.
iRobot designs and builds robots that make a difference. The company's home robots help people find smarter ways to clean, and its government and industrial robots protect those in harm's way. iRobot's consumer and military robots feature iRobot Aware® robot intelligence systems, proprietary technology incorporating advanced concepts in navigation, mobility, manipulation and artificial intelligence. For more information about iRobot, please visit www.irobot.com.
Featured Product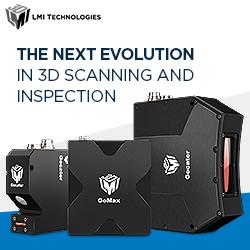 Every robot needs eyes to see, think, and do. Gocator® 3D smart sensors add powerful vision-guidance and inspection capability to industrial robots. You can use these sensors in a wide variety of factory automation applications. Pair them with scara, delta, and collaborative robots to create complete robotic solutions that deliver high-performance 3D results in vision-guidance, quality control inspection, and automated assembly with smart pick-and-place. Make your robot FactorySmart® with Gocator 3D smart sensors.