GIA announces the release of a comprehensive global report on Computer Assisted Surgical (CAS) Systems markets. World market for Computer Assisted Surgical Systems is projected to reach US$2.9 billion by the year 2017. Growth will be driven by the increase in minimally invasive surgical (MIS) procedures, incremental improvements in the reliability of CAS technologies, increased availability of robust and clinically proven CAS systems and encouraging demographic trends, such as aging population.
San Jose, California March 05, 2012

Technological advancements in information technology (IT) plays a crucial role in meeting the ever-growing human needs and requirements. Integration of science and engineering has created intelligent computer assisted surgical systems and medical robotics that are clinically proven proactive. Today, computers with several microprocessor enabled surgical equipment and instruments, offer assistance, and enable surgeons to perform critical procedures with more ease and with high level of accuracy and safety. These sophisticated intelligent systems aid in significantly improving the existing surgical procedures and provide innovative approaches to critical medical problems. Sophisticated CAS systems augment surgeon's capabilities, while ensuring better health care of the patient. The systems significantly improve the outcomes of surgical procedures and offer novel treatment approaches to critical medical problems. Over the years, the CAS industry witnessed numerous collaborative agreements between manufacturers of surgical devices and developers of computer guided surgery, navigation and robotic surgery systems.
Hospitals and insurers play an important role in the integration of CAS technologies into the health care system of a country. Hospitals and insurers push these CAS technologies into the market to save money. Besides, competition in the marketplace for higher quality services also accelerates the adoption of these technologies. Additionally, customers demanding superior quality services also play a vital role in advancing these technologies into the market. In some countries, such as Germany, there has been significant increase in demand for clinics that adopted CAS technologies, while clinics that do not adopt these technologies are considered as inferior quality service providers. Thus, CAS technologies have become an industry standard and the hospitals and clinics that adopt these technologies reap rich dividends. Further, the extensive purchase of CAS technologies would pave way for rapid developments in innovative CAS technologies.
Robot-Assisted surgery (RAS) is a sophisticated technology that is currently in embryonic stage. RAS employs robotic skills to help a surgeon in executing precise and delicate procedures in the operating room. RAS helps in precise navigation of hand held surgical tools with the help of computerized image and performs procedures along with the predefined trajectories with more accuracy and greater accessibility compared to a human hand. Although used in a few surgical procedures such as hip replacement and needle direction for biopsy, RAS is expected to play a vital role in several complicated surgical procedures. The growing interest in research subjects, commercial interests, decrease in patient morbidity, and shorter hospital stays are acting as the propelling factors for developments in RAS. Imparting knowledge and training for the surgeons and healthcare personnel about advanced surgical robots is expected to boost the acceptance of these systems.
Virtual Reality (VR) is one of the most lucrative and promising developments in the medical domain. Despite limitations and concerns of implementation in medical arena, VR systems are experiencing constant development in marketing perspective of quality of systems as well as receptiveness of promising customers. The increasing significance of VR systems is mainly due to the plummeting costs of VR systems, persistent improvements in performance reliability, and several valuable economic advantages in various forms, including simulation, design, and training. This clinically proven VR technology is being rapidly adopted in several markets. VR technology is expected to wield a significant influence on CAS systems. Advanced CAS, VR, and imaging systems minimize the usage and dependency on expensive and complicated invasive diagnostic as well as surgical procedures. Also, amalgamation of medical VR & CAS holds the potential to improve medical outcomes in a cost-effective manner by increasing accuracy in diagnosis and surgery and by enabling relocation of several procedures from operating room to the radiology centers and outpatient surgery.
As stated by the new market research report on Computer Assisted Surgical (CAS) Systems, US represents the largest market worldwide. Asia-Pacific represents the fastest growing market with a projected CAGR of 14.6% over the analysis period. Growth in this region will be driven by rapidly growing investments in healthcare infrastructure, rise in the number of healthcare management companies, growth of medical tourism and the ensuing investments in medical equipment & technologies in the private sector and the blistering pace of adoption of healthcare IT solutions among both public and private healthcare sectors.
Major players in the marketplace include Intuitive Surgical Inc., Ascension Technology Corporation, CAE Inc, Polhemus Inc., ROBODOC, SensAble Technologies Inc., Simbionix USA Corp, Viking Systems Inc, among others.
The research report titled "Computer Assisted Surgical (CAS) Systems: A Global Strategic Business Report" announced by Global Industry Analysts, Inc., provides a comprehensive review of market trends, issues, drivers, company profiles, mergers, acquisitions and other strategic industry activities. The report provides market estimates and projections (in US$ Million) for major geographic markets including the United States, Canada, Japan, Europe (France, Germany, Italy, UK, Rest of Europe), Asia-Pacific, and Rest of World. Product segments analyzed include Surgical Planners and Simulators, Surgical Navigation Systems, and Surgical Robots.
For more details about this comprehensive market research report, please visit -
http://www.strategyr.com/Computer_Assisted_Surgical_Systems_Market_Report.asp
About Global Industry Analysts, Inc.
Global Industry Analysts, Inc., (GIA) is a leading publisher of off-the-shelf market research. Founded in 1987, the company currently employs over 800 people worldwide. Annually, GIA publishes more than 1300 full-scale research reports and analyzes 40,000+ market and technology trends while monitoring more than 126,000 Companies worldwide. Serving over 9500 clients in 27 countries, GIA is recognized today, as one of the world's largest and reputed market research firms.
Featured Product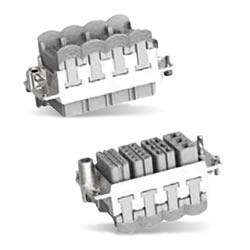 TE Connectivity's HDC Dynamic Module integrates the Dynamic series flexible signal and power solutions and the HDC Heavy Duty Connector series to form a solution of harsh environment connectors. TE's HDC Dynamic Module offers the top features of the two series. It uses the contact concept of the Dynamic series, with its proven performance in industrial uses and its cost effectiveness compared to legacy cutting contacts. The HDC connectors make the module a reliable solution for harsh environments. TE's HDC Dynamic Module supports 2A/32V to 40A/300V performance and 3 positions to 48 positions.