Represents first significant order of company's small, light and throwable robot
BEDFORD, Mass., March 6, 2012 - iRobot Corp., a leader in delivering robotic technology-based solutions, received a $1.5 million order, funded by the Joint Improvised Explosive Device Defeat Organization (JIEDDO), for more than 100 of the company's model 110 FirstLook™ robots. Since its introduction last year, the iRobot 110 FirstLook has undergone extensive testing and demonstrations with the customer. All robots under this order have been delivered and will take part in an operational assessment this spring.

FirstLook is a small, light and throwable robot. It is ideal for a wide range of infantry and special operations missions, including building clearing, raids and other close-in scenarios. With four built-in cameras, FirstLook provides multi-direction situational awareness while keeping the operator out of harm's way.
FirstLook possesses a unique set of capabilities. While it weighs just five pounds, it is robust enough to survive 15-foot drops, overcomes obstacles as high as seven inches and automatically self-rights when flipped over. Future capabilities include two-way audio communication and digital mesh networking, which will allow multiple robots to relay radio communications over greater distances.
"iRobot has received very positive feedback from the field about FirstLook's capabilities, and we are excited about the advantages this game-changing robot will provide to our troops," said Tim Trainer, interim general manager of iRobot's Military Robots business unit. "Similar to how iRobot's PackBot and SUGV robots changed the way explosive ordnance disposal missions are conducted, we feel FirstLook will change how infantry and special operations missions are performed in the years ahead."
About iRobot Corp.
iRobot designs and builds robots that make a difference. The company's home robots help people with smarter ways to clean, and its government and industrial robots protect those in harm's way. iRobot's consumer and military robots feature iRobot Aware® robot intelligence systems, proprietary technology incorporating advanced concepts in navigation, mobility, manipulation and artificial intelligence. For more information about iRobot, please visit www.irobot.com.
Featured Product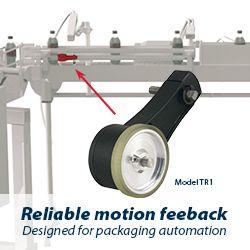 EPC is excited to announce our NEW online 3D Configurator. This new tool makes it even easier to configure EPC's products exactly how you need them for your application. The 3D Configurator interface is intuitive and works in any web browser for both desktop and mobile. It'll only take you a moment to learn your way around the program. Careful, though: it's so fun to play with, you may spend a whole afternoon on it!