Announcement from Tully Foote (rosinstall maintainer) to ros-users

Hi Everyone,
Thanks to the work of Thibault Kruse we have released an upgraded version of rosinstall we have bumped it up to the 0.6 series to indicate the significant overhaul. The basic command line usage has not changed.
The following changes have been incorporated:
-prevention duplicate sourcing and path appending actions in combination with fuerte
-No recursion into rosinstall files other than those provided with the Command line interface (was defunct anyway)
-Giving a .rosinstall as a CLI argument is equivalent to giving its folder
elements in rosinstall files are checked to be valid folders (files for setup-file)
-Duplicate path detection improved
-It is now illegal to have any two SCM entries with overlapping paths
-rosinstall will now change relative path "uri"s in rosinstall file SCM elements to absolute paths uris
-Python code is now split up into modular design, allowing proper unit testing and using rosinstall code as library
-Many more Unit-tests, more code documentation
-usage of the yaml structure within the code was wrapped in a Wrapper class
-setup.sh now parses .rosinstall to generate ROSPACKAGEPATH
-parallel install, update, diff and stat
If you find problems please submit them at: https://kforge.ros.org/vcstools/trac/newticket
Tully
Featured Product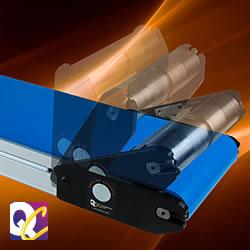 AS40 Conveyors are designed for ease of use and simple integration with robotic applications. Built on a rigid aluminum frame, they feature tee slots for rapid accessory mounting and a tail that flips up at the push of a button for easy under-belt cleaning and belt changes. Nosebar tails are available for transferring small parts between conveyors. All conveyors include a 10 Year Warranty and most are available with a fast five day lead time.