Allen-Bradley CompactLogix 5370 controllers give machine builders high-performance integrated motion control on EtherNet/IP network, and up to 40 percent smaller footprint
The new Allen-Bradley CompactLogix 5370 programmable automation controllers (PACs) from Rockwell Automation bring machine builders a high-performance, right-sized integrated motion control solution for their machine applications. The 5370 series, which includes the 5370 L1, L2 and L3 controllers, features enhanced performance and motion capabilities while leveraging the common design and networking environment of the Rockwell Automation Integrated Architecture system. This gives users access to the extensive capabilities of the Logix Control Platform in a small, integrated and cost-effective package.

When used with the Allen-Bradley Kinetix 350 servo drive, the CompactLogix 5370 series provides both performance and cost competitiveness for machine builders requiring up to 16 axes of complex motion, all on one standard industrial network - EtherNet/IP. The EtherNet/IP connectivity offers up to 250 percent more communication bandwidth than previous CompactLogix controllers, helping enable more network devices and higher performance control.
"Machine builders are always challenged to build better machines more quickly and cost-effectively to meet their customers' needs and stay competitive," said Dexter Leong, product manager for Control & Visualization, Rockwell Automation. "These new controllers help fill out our portfolio so machine builders can select from a full range of solutions - from standalone components to highly integrated systems through the MicroLogix, CompactLogix and Allen-Bradley ControlLogix platforms. Users can pick the controller and system components that fit each application - in terms of both capability and price point - yet standardize on a single control platform. This scalability and consistency helps easily implement systems that speed time to market and lower Total Cost to Design, Develop and Deliver machines."
The CompactLogix 5370 series features the same processing speed upgrades seen in the ControlLogix 5570 series launched in 2011. The new controllers offer users more than twice the processing speeds to boost system performance and enhance access to real-time information for improved productivity. With user memory in the CompactLogix 5370 series of PACs ranging from 384KB to 3MB, these controllers are ideal for a variety of applications, including sorting, labeling and packaging, blending, batching and filling.
\"Today's machine builders are driven by the need to streamline engineering processes, standardize machine designs, and shorten time-to-market for new innovations. These challenges require an automation architecture that supports modularity, reduces development and start-up times, and increases productivity with integrated engineering tools,\" said David Humphrey, research director, ARC Advisory Group. \"Rockwell Automation's midrange architecture addresses these needs with a solution that tightly integrates disparate automation disciplines in a single platform. Machine builders can take advantage of this integrated environment to address the challenges they face in today's competitive, globalized world.\"
Batteryless energy storage on the new series of PACs eliminates maintenance, transportation and environmental issues associated with lithium batteries. Removing the batteries - along with other design enhancements and technology developments - has reduced the size of these CompactLogix controllers.
Key features of the three new controllers include:
The CompactLogix 5370 L1 is the smallest, packaged-style controller in the Logix Control Platform. It uses POINT I/O modules as its local I/O, manages integration motion for up to two axes, and provides cost-effective price positioning for simple machine control.
The CompactLogix 5370 L2 controller is 40 percent smaller than the previous generation, and supports up to four axes of integrated motion. From small standalone equipment to higher performance applications, these controllers are ideal for assembly machines, hoisting systems, process skids, indexing tables and packaging.
The CompactLogix 5370 L3 controller supports up to 16 axes of integrated motion on EtherNet/IP. The No Stored Energy version of the CompactLogix 5370 L3 offers additional features for hazardous environments found in industries such as mining, and oil and gas.
The new CompactLogix 5370 controllers are fully compatible with application code generated for earlier generation CompactLogix products, requiring only a simple catalog number change in the programming software to convert. Also, linked to the release of the new CompactLogix 5370 controllers, Rockwell Automation has released an update to its Integrated Architecture Builder (IAB) graphical software tool to help users more easily migrate Allen-Bradley SLC 500 controller users to the new CompactLogix PACs. The free IAB tool provides easy-to-follow migrating guidance and software conversion assistance.
About Rockwell Automation
Rockwell Automation, Inc. (NYSE: ROK), the world's largest company dedicated to industrial automation and information, makes its customers more productive and the world more sustainable. Headquartered in Milwaukee, Wis., Rockwell Automation employs over 21,000 people serving customers in more than 80 countries.
Featured Product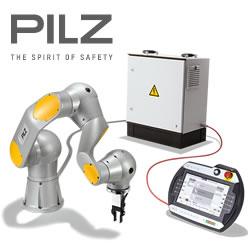 Our service robotics modules give you an easy start in robotics. Assemble your individual robot application - exactly according to your requirements: Service robotics modules consists of the manipulator module PRBT, the control module PRCM, the operating module PRTM and ROS modules. Our collision measurement set PRMS for human-robot collaboration (HRC) supports you reliably on your path to a safe application. Application areas of the service robotics modules can be found in service robotics and industrial environments. Benefit from our cost-efficient, flexible solution!