A leader in counterterrorism training for military and law enforcement collaborates with top robotics manufacturer to offer field teams a robotic arm with near-human dexterity
WASHINGTON--A-T Solutions Inc., a global, industry-leading anti- and counterterrorism professional solutions firm headquartered in the Washington, D.C., area, announced today a partnership with HDT Global, a leading robotics manufacturer, to support military and law enforcement forces with the MK2 Robotic Arm, the first device attachment capable of replicating near-human dexterity.

"Our mission is to deliver training and technology solutions that will help secure our world and save lives," said Dennis Kelly, president and CEO of A-T Solutions. "HDT Global's new robotic arm will significantly change the C-IED and EOD communities by allowing bomb technicians to evaluate and defuse explosive devices from a safer distance. We look forward to working with HDT to train field teams to use this critical tool, as fast as possible."
Derived from a Defense Advanced Research Projects Agency initiative to create the most advanced prosthetic in the world, the MK2 uses proprietary technology to offer a high-strength, lightweight remote ground unit capable of near-human dexterity. Its unique abilities allow it to use any tool meant for human hands and perform many tasks previously impossible for a robotic arm.
"We are excited to be partnering with A-T Solutions to deliver a technology solution that will help homeland security, law enforcement and defense teams by keeping more of our forces out of harm's way while addressing and evaluating terrorist threats," said Tom Van Doren, Ph.D., chief operating officer of HDT Robotics, a division of HDT Global.
The MK2 Robotic Arm is compatible with a majority of the robots and mounting systems currently in use by military and law enforcement organizations worldwide. The MK2 is capable of handling a power drill, inspecting a suspicious package, unzipping a backpack and disabling explosive devices.
Both A-T Solutions and HDT Global have been recognized by the Fredericksburg Regional Technology Council. A-T Solutions was named Emerging Technology Company of the Year and HDT Global was awarded the title of Innovator of the Year.
About A-T Solutions
A-T Solutions Inc. is one of the industry's leading and fastest-growing counterterrorism firms, providing a full spectrum of training, technology, intelligence and mission solutions that protect people, infrastructure and nations from terrorist threats. Acquired by CoVant in February 2008, A-T Solutions has unique expertise in training to support warfighters, state and local first responders, and law enforcement professionals in detecting and defeating improvised explosive devices. The company supports more than 200 customers in more than 40 countries, including the departments of Defense, State and Justice; the Department of Homeland Security; the intelligence community; allied nations; and the private sector. A-T Solutions has more than 800 employees and is based in the Tysons Corner area of Vienna, Va. The company has an operations and training center in Fredericksburg, Va., and additional offices in San Diego, Calif.; Larkspur, Colo.; Niceville, Fla.; Boise, Idaho; Virginia Beach, Va.; Anacortes, Wash.; and Fort Leonard Wood, Mo. For more information, please visit www.a-tsolutions.com.
About HDT
Headquartered in Solon, Ohio, USA, HDT Global is widely recognized for its industry-leading production of state-of-the-art, fully integrated deployable solutions, including shelters, generators, heaters, air filtration devices, parachutes, aerial delivery systems, robotics and other engineered technologies, currently used by U.S. and allied military units worldwide, as well as civilian government and commercial customers. For more information, visit www.hdtglobal.com.
About CoVant
Founded by former executives of Anteon International, CoVant invests in and provides strategic, financial and operational resources to a portfolio of companies specializing in technology and related solutions that serve the needs of the homeland security, defense and intelligence communities. With an experienced team of business executives and a respected board of former government and military leaders, CoVant delivers a unique and highly strategic approach to maximizing company growth and value. Visit www.covant.com for more information.
Featured Product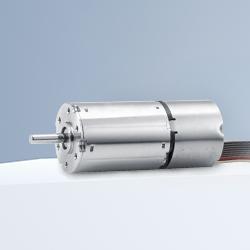 MICROMO launches the new MC3/MCS motion control family. The new high performance, intelligent controllers are optimized for use with FAULHABER motors, offer electronics for simple operation with state-of-the-art interfaces for multi-axis applications, and provide a motion control system solution with the most compact integration into industrial grade housing.