Over 1000 students will compete at Boston University's Agganis Arena for honors that recognize robot design excellence, competitive play and sportsmanship
BOSTON--The Regional Planning Committee for the Boston FIRST Robotics Competition (For Inspiration and Recognition of Science and Technology) today announced that 53 teams will compete in its Boston Regional robotics competition March 23-24, 2012 at Boston University's Agganis Arena. The event is free and open to the public.

In this year's game, called "Rebound Rumble," two groups of three robots will compete on a flat 27x54 foot field configured with multiple basketball hoops at various heights. A robot earns points for its alliance when it shoots a ball into a hoop. The higher the hoop in which the basketball scores, the more points the robot's alliance receives. The alliance that scores the most points during the 135-second match wins the match.
"We have fifty-three amazing teams enrolled in this year's competition. The teams come from Canada, Mexico, Turkey, all six New England states, New York, Florida and Pennsylvania," said Mikell Taylor, President of the Boston FIRST Regional Planning Committee. "This is the seventh year that Boston has hosted the regional competition. The continued success of the Boston Regional comes from the students, their academic and corporate sponsors, and the hundreds of volunteers it takes to plan and run this event."
On Saturday, March 24, students and attendees will have an opportunity to hear from Jamie Heywood, the MIT Mechanical Engineer who founded the ALS Therapy Development Institute, and Nate Ball, host of PBS's Design Squad, co-founder of Boston startup Atlas Devices, and competitive beatboxer.
Judges for this year's competition include leading innovators from MIT Lincoln Labs, Booz Allen Hamilton, BBN Technologies, Olin College and Kiva Systems. A list of all this year's judges can be found here: http://www.bostonfirst.org/event-information-judges.html.
As with competitions in previous years, this year's competition was made possible through generous donations from some of the area's leading corporations and educational institutions, including Boston University, Google, Boston Scientific, National Grid, Textron Systems, The Math Works and State Street Bank. A complete list of sponsors can be found here: http://www.bostonfirst.org/event-information-sponsors.html.
Now in its seventh year, the annual Boston Regional has become one of the most popular events of its kind in New England with thousands of attendees every year.
About The Boston FIRST Robotics Regional Competition
The Boston FIRST Robotics Competition Regional Planning Committee was established in 2005 and is run entirely by a team of dedicated volunteers. In just seven years, the Boston Regional has become one of the most popular regional events in the country, attracting thousands of attendees every year. In 2008 the Boston FIRST Robotics Competition was a finalist for the Mass Technology Leadership Council's annual Technology Leadership award. To learn more about Boston FIRST and the Boston Regional Competition, please visit http://www.BostonFIRST.org.
About FIRST
Accomplished inventor Dean Kamen founded FIRST (For Inspiration and Recognition of Science and Technology) in 1989 to promote an appreciation of science and technology in young people. Based in Manchester, New Hampshire, FIRST creates accessible and innovative programs that build self-confidence, knowledge and life skills, motivate young people to pursue opportunities in science, technology and engineering, and encourage high-impact partnerships among schools, business and communities. With the support of many of the world's most well-known companies, the non-profit organization hosts the FIRST Robotics Competition and FIRST Tech Challenge for high-school students, and the FIRST LEGO League and Junior FIRST LEGO League for children 9-14 years old. To learn more about FIRST, go to http://www.usfirst.org.
Featured Product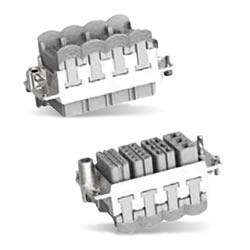 TE Connectivity's HDC Dynamic Module integrates the Dynamic series flexible signal and power solutions and the HDC Heavy Duty Connector series to form a solution of harsh environment connectors. TE's HDC Dynamic Module offers the top features of the two series. It uses the contact concept of the Dynamic series, with its proven performance in industrial uses and its cost effectiveness compared to legacy cutting contacts. The HDC connectors make the module a reliable solution for harsh environments. TE's HDC Dynamic Module supports 2A/32V to 40A/300V performance and 3 positions to 48 positions.