Artila Electronics released PAC-4070, a DIN-Rail Industrial ARM9 Linux-based Programmable Automation Controller.
PAC-4070 has robust metal casing with a DIN-Rail mounting kit attached to its back side. PAC-4070 is powered by 400MHz AT91SAM9G20 ARM9 Processor with memory management unit, and equipped with 64MB SDRAM, 128MB NAND Flash, and 2MB DATAFlash. PAC-4070 is also equipped with 4 x 16-bit isolated A/D channels, 4 x 2500Vrms opto-isolated digital inputs, and 4 x high-drive isolated digital outputs. In addition, PAC-4070 integrates two 10/100Mbps Ethernet, two RS-232 serial ports, two RS-232 or isolated RS-485 ports, two USB hosts, and one MicroSD socket into a compact metal box. The DIN-Rail also makes PAC-4070's onsite installation flexible.

PAC-4070 is pre-installed with Linux 2.6.29 OS and busybox utility collection. The UBI file system is employed to provide improved performance and longer lifetime for NAND Flash compared to JFFS2. Moreover, the DataFlash includes a backup Linux file system which will automatically boot up PAC-4070 in case the primary NAND Flash fails. The failure-proof and redundant booting design makes PAC-4070 an ideal platform for many mission-critical applications.
In terms of package management system, PAC-4070 uses ipkg, a lightweight system that is resembled to Debian's dpkg. This allows users to easily install, upgrade, and remove the software package. Artila continuously increases and updates the software package to its ftp site for the users to download for free to install the software package they need from the internet.
Useful software utilities are also provided for easy management and development of PAC-4070, including webmin, and the GNU tool chain, which includes a C/C++ cross compiler and Glibc.
Featured Product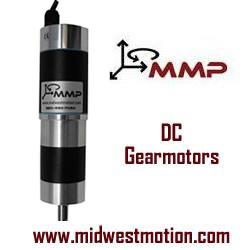 Midwest Motion Products, Inc. (MMP), is a well-established, healthy, & growing Family Owned Business, founded in 2001. MMP specializes in cost-effective standard DC Gearmotors, Motors, Controls, and ancillary equipment. Known world-wide for our "Lightning Fast" delivery capabilities, you can have a Standard Planetary or Right Angled DC Gearmotor BUILT and SHIPPED, often on the very same day you call. Offering Brushed and Brushless designs, with winding voltages ranging from 12 VDC to 120 VDC, we can deliver your "Robust & Reliable" samples within HOURS, instead of weeks, or even months.