Tower System mechatronics robot and board enable rapid sensor application development with easy-to-use programming language and expanded capabilities
DESIGN West 2012

SAN JOSE, Calif.--Freescale Semiconductor (NYSE: FSL) today announced significant enhancements to the Freescale Tower System mechatronics robot and board, a bipedal robot and development board that allows designers to write software for a variety of sensor applications while making a robot walk and respond to touch, motion, vibration, tilt and other external stimuli. With a powerful new programming language based on StickOS, new wireless capabilities and the addition of Freescale's Xtrinsic magnetometer for more accurate compass heading information, designers of all experience levels can quickly and easily learn how to employ sensors in innovative design projects across a variety of applications.
"Freescale's enhanced robot and development board prove you don't have to be an engineer or have extensive design experience to learn programming skills," said Kevin Anderle, field applications engineer manager at Freescale. "By exploring new ways to make the robot interact through balancing, dancing, or even programming it to walk through a maze, designers are acquiring valuable technical abilities that can be applied to sensor applications in a variety of markets, including consumer, industrial and medical."
The Freescale robot was first introduced in 2011 at the Freescale Technology Forum Americas and has since been used as a learning tool by a range of audiences, including advanced engineers developing sensor and robotic system designs and Boy Scouts pursuing robotics badges.
"In working with Freescale on the latest Tower System mechatronics robot, our goal was to create a tool that would enable casual users and consumers of technology to become creators and innovators," said Rich Testardi, director of engineering for StickOS and CPUStick.com. "With StickOS and tools like the Freescale robot, creating innovative projects with sensors becomes much easier. There's no 500-page manual or complicated programming language to learn. It opens the door for users of all experience levels to learn programming and sensors in a new, fun way."
Freescale's new Tower System mechatronics robot and Tower System mechatronics board come with four servos, a three-axis accelerometer, a 12-channel touch sensor and an Xtrinsic MAG3110 magnetometer, which works with the accelerometer to provide more accurate compass heading information to enable navigation functions. It is equipped with ready-to-use code that provides a programming starting point and features a new, integrated development environment with powerful language based on StickOS, an MCU-resident interactive programming environment using real-time BASIC language. StickOS is easy to learn and has a built-in editor for beginning programmers. The fully interactive interface also allows users to quickly change parameters based on instant sensor feedback and requires minimal software on the host PC. The upgraded robot also has wireless capabilities enabled by Freescale's MC13201 transceiver, which provides RF communication, improves speed and reliability, avoids interference and enables greater flexibility for devices to operate from greater distances.
About Freescale Tower System mechatronics
The Freescale Tower System mechatronics board enables simple application development for consumer and industrial applications. The board is powered by a 32-bit ColdFire microcontroller with 64K of RAM and 512K of flash and is fully compatible with the full range of available Freescale Tower System boards and Xtrinsic sensors with plug-in daughter boards for extended capabilities. It also operates standalone with a three-axis accelerometer and 12-channel touch sensor. The robot can be programmed using real-time BASIC language in StickOS or C/C++ using the CodeWarrior IDE.
Tweet this: @Freescale #FSLBOT upgrades make it easy and fun for anyone to program #Xtrinsic sensors http://bit.ly/zfqPFj
Pricing and Availability
The Tower System mechatronics robot and Tower System mechatronics board along with sensor adapter boards are available now and can be ordered directly at www.freescale.com/MechBot.
*FSLBOT ($199 USD) - includes the Tower System mechatronics board, four PWM-controlled RC servos, leg mechanics and associated hardware, assembly instructions, a Tower System mechatronics board user guide and a quick start guide
*TWR-MECH ($99 USD) - includes an MCF52259 32-bit ColdFire MCU and MPR121 touch sensor, Tower System mechatronics board user guide and quick start guide
*LFDA8451 ($25 USD) provides a device adapter for the Freescale Xtrinsic MMA8451Q 14-bit 3-axis accelerometer
*LFDA3110 ($25 USD) provides a device adapter for the Freescale Xtrinsic MAG3110 3-axis magnetometer
A proven leader in sensing solutions
Expanding on its more than 30-year heritage of sensor innovation, Freescale's Xtrinsic sensing solutions are designed with the right combination of high-performance sensing capability, processing capacity and customizable software to help deliver smart, differentiated sensing applications. With Xtrinsic sensing solutions, Freescale's vision is to offer a diverse and differentiated product portfolio to meet the expanding needs of the automotive, consumer and industrial segments. Xtrinsic solutions offer distinct blends of functionality and intelligence designed to help customers differentiate and win in highly competitive markets.
About the Freescale Tower System The Freescale Tower System is a modular development platform that helps developers quickly prototype and evaluate their applications. Designers can choose from a growing ecosystem of controller and peripheral modules. Simply select the development boards (modules) with the needed features and functionality, and combine them to build a Tower System. In addition, standardized, open-source hardware allows Freescale customers and partners to design additional modules for added functionality and customization. Online training, videos, webcast, technical documentation and application notes are available at http://www.freescale.com/tower.
About Freescale
Freescale Semiconductor (NYSE: FSL) is a global leader in embedded processing solutions, providing industry leading products that are advancing the automotive, consumer, industrial and networking markets. From microprocessors and microcontrollers to sensors, analog integrated circuits and connectivity - our technologies are the foundation for the innovations that make our world greener, safer, healthier and more connected. Some of our key applications and end-markets include automotive safety, hybrid and all-electric vehicles, next generation wireless infrastructure, smart energy management, portable medical devices, consumer appliances and smart mobile devices. The company is based in Austin, Texas, and has design, research and development, manufacturing and sales operations around the world. www.freescale.com
Featured Product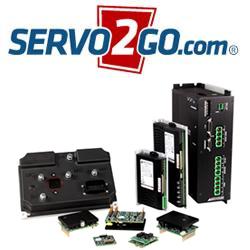 Engineered to drive brushless and brush servomotors in torque, velocity or position mode, Servo2Go.com offers a broad selection of servo drives in a wide range of input voltages and output power levels.