AeroVironment, Inc. today unveiled a new miniature gimbaled sensor payload on the battle-proven RQ-11B Raven small unmanned aircraft system at the Army Aviation Association of America Annual Professional Forum and Exposition.
AeroVironment, Inc. today unveiled a new miniature gimbaled sensor payload on the battle-proven RQ-11B Raven small unmanned aircraft system at the Army Aviation Association of America Annual Professional Forum and Exposition.

The modular payload includes a high-resolution color and an infrared thermal video sensor, as well as a laser illuminator integrated into a multi-axis sphere capable of continuous pan. The new payload will become a standard component of future Raven systems and will be sold as an upgrade for previously fielded units. Upgrading existing digital Raven systems to accommodate the new payload requires only a software update to each air vehicle and ground control station.
The new payload is one of four products offered in AeroVironment's "Mantis" suite of gimbaled sensor payloads now available for commercial applications including unmanned aircraft systems, manned aircraft, ground vehicles and watercraft.
A gimbaled sensor payload enhances the Raven system's capabilities by allowing a higher level of visual fidelity and continuous observation of an item of interest regardless of the air vehicle's flight direction. The new payload also replaces two separate Raven system payloads previously required for day and night operation, one containing a stationary electro-optical sensor, the other a stationary infrared sensor. Flight algorithms allow the air vehicle to manage its own flight path based on what the user wants to see, rather than requiring the user to control both the air vehicle and the sensor separately.
Tom Herring, AeroVironment senior vice president and general manager of its Unmanned Aircraft Systems business segment said, "Operators rely on the portable Raven system to provide critical, live aerial video that gives troops situational awareness, whenever and wherever they need it. Our new mini-gimbal payload significantly increases the Raven system's capability and can be quickly and easily integrated into the thousands of digitally enabled air vehicles already deployed. The net result is a more capable solution for protecting and serving the warfighter for a fraction of the cost of a new system."
Integrating the new gimbaled sensor payload marks the fourth upgrade to the Raven system since its introduction in 2003 and follows the successful introduction of AeroVironment's digital data link (DDL) to replace the Raven system's original analog communication modules.
"By continuously working with customers to understand their needs and desires and improving the Raven system to address them, AeroVironment continues to deliver cost-effective solutions that help them succeed," said Herring.
# # #
About AeroVironment's Family of Small UAS
RQ-11B Raven®, Wasp™, Puma and Shrike VTOL™ comprise AeroVironment's Family of Small Unmanned Aircraft Systems. Operating with a common ground control system (GCS), this Family of Systems provides increased capability to the warfighter that can give ground commanders the option of selecting the appropriate aircraft based on the type of mission to be performed. This increased capability has the potential to provide significant force protection and force multiplication benefits to small tactical units and security personnel. AeroVironment has delivered thousands of new and replacement small unmanned air vehicles. International purchasers of AeroVironment's small UAS include the armed forces of Italy, Denmark, the Netherlands, Spain, France, Norway, the Czech Republic, Thailand and Australia.
The Qube™ small UAS is tailored to law enforcement, first response and other public safety missions. Small enough to fit easily in the trunk of a car, the Qube system can be unpacked, assembled and ready for flight in less than five minutes, giving the operator a rapidly deployable eye in the sky at a fraction of the cost of manned aircraft and large unmanned aircraft.
About AeroVironment, Inc.
AeroVironment is a technology solutions provider that designs, develops, produces and supports an advanced portfolio of Unmanned Aircraft Systems (UAS) and electric transportation solutions. Agencies of the U.S. Department of Defense and allied military services use the company's electric-powered, hand-launched unmanned aircraft systems extensively to provide situational awareness to tactical operating units through real-time, airborne reconnaissance, surveillance and communication. Multiple government agencies have helped to fund the development and demonstration of Global Observer, a hybrid-electric, stratospheric UAS designed to provide affordable, persistent reconnaissance and communication over any location on the globe. Switchblade is a loitering munition designed to provide a rapid, lethal, pinpoint precision strike capability with minimal collateral damage. AeroVironment's electric transportation solutions include a comprehensive suite of electric vehicle (EV) charging systems, installation and data services for consumers, automakers, utilities and government agencies, power cycling and test systems for EV developers and industrial electric vehicle charging systems for commercial fleets. More information about AeroVironment is available at www.avinc.com.
Featured Product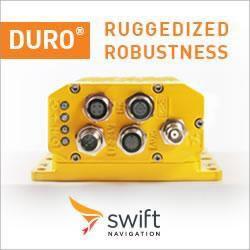 Duro® and Duro Inertial are enclosed dual-frequency RTK GNSS receivers. Designed and built to survive long-term, outdoor deployments, the easy-to-deploy Duro and Duro Inertial combine centimeter-accurate positioning with military ruggedness at a breakthrough price. Duro Inertial features an integrated IMU for continuous centimeter-accurate positioning in the harshest of outdoor deployments.