ATI Sponsors Free RIA Webinar April 12th, 2012
ATI Industrial Automation is sponsoring the Robotic Industries Association (RIA) free webinar, "Fundamentals of Industrial Robotics: Factory Solutions", April 12th from 12:00 noon to 1:00 pm EST.

Learn about different kinds of robots, their design and component makeup, basic safety considerations and integration methodologies. See movies of factory solutions in action (e.g., in automotive settings, packaging warehouses, and semiconductor manufacturing facilities.) These and a variety of other industrial markets and robot solutions within them are examined along with key technologies that enable them.
Featured Product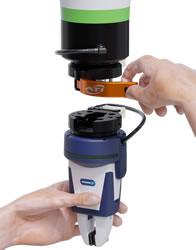 Simpler, stronger, and more precise. ATI Industrial Automation has developed a series of Manual Tool Changers that provides a cost-effective solution for quickly changing tools by hand. They feature a unique design that combines high strength, excellent repeatability, and a patent-pending screw-cam locking mechanism with multiple fail-safe features, which resists vibration and prevents loosening. These robust and compact Manual Tool Changers can handle payloads up to 80 pounds (36 kg) and pass pneumatics and electrical signals.