Dynamic and safety-approved TRC worn by U.S. Army soldiers in combat operations
Reston, Va. April 02, 2012

QinetiQ North America today announced the first combat use of its Tactical Robotic Controller (TRC) in support of the US Army's recently-fielded Minotaur and Armadillo unmanned systems.
"Our TRC enables dismounted forces to use a single, lightweight controller to command and control a wide variety of unmanned assets," said QinetiQ North America's Technology Solutions Group (TSG) President JD Crouch. "This universal controller mitigates the logistical and training challenges associated with controllers that can only be used for one specific type of unmanned vehicle."
The TRC is a lightweight, wearable controller that enables the warfighter to control multiple unmanned ground vehicles (UGVs), unmanned aerial vehicles (UAVs) and unattended ground sensors (UGS). The TRC can be rapidly activated by attaching the communications pack for the systems to be controlled, selecting the touch screen application and initiating control.
The TRC was developed for the U.S. Marine Corps through a continuing contract with the U.S. Naval Surface Warfare Center in Dahlgren, VA. The Marine Corps Warfighting Laboratory uses TRCs to control a wide variety of unmanned aircraft, ground robots and unattended sensors.
"It is not uncommon for robotic controllers to weigh between 20 and 40 pounds," said Senior Vice President of Unmanned Systems Ed Godere. "This is a significant burden for dismounted forces who are already weighed down by their combat loads. The TRC weighs only 10 pounds and it offers a comprehensive solution with its ability to control multiple platforms, both in the air and on the ground."
QinetiQ North America is a world leader in robotic technology solutions that save lives in defense, security and first responder environments. For more information, please see our website http://www.qinetiq-na.com or follow us on Facebook at http://www.facebook.com/qinetiqnarobots or Twitter at http://www.twitter.com/qinetiqnarobots.
About QinetiQ North America
QinetiQ North America (QNA) is a subsidiary of QinetiQ Group plc. Operating in North America, QNA delivers world-class technology, responsive services, and innovative solutions for global markets, focusing on US government and commercial customers. Its engineers, scientists and other professionals deliver high quality products and services that leverage detailed mission knowledge and proven, reliable tools and methodologies to meet the rapidly changing demands of national defense, homeland security and information assurance customers. QNA is headquartered in McLean, Virginia. For more information visit http://www.qinetiq-na.com.
Featured Product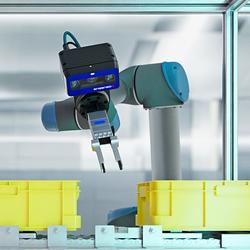 IDS NXT: a platform for a new generation of vision systems for industrial applications. It lays the groundwork to provide easy-to-use yet flexible complete systems that can be used to implement all steps of a vision solution. With IDS NXT ocean, a complete solution especially for AI-based image processing is now available. It allows to solve tasks where classic, rule-based image processing has reached its limits - without any programming effort.