Two Leaders in Ultra Precision Manufacturing Unveil Advancement At Annual Meeting of American Society of Precision Engineering
Two established leaders in ultra precision manufacturing -Taylor Hobson and Precitech-have combined their expertise in precision optical measurement and manufacturing to develop a new process to measure, analyze and correct for diffractive form errors in three dimensions. This latest advancement in 3-D metrology and correction of aspheric diffractive optics will be unveiled at the 26th Annual Meeting of the American Society of Precision Engineering on November 14, 2011 in Denver, CO.

Previously it was not possible to measure diffractive optical surfaces and correct for symmetric and asymmetric errors inherent in the turning process, because large diffractive zones within the optics made it difficult to measure shape. The new process utilizes a Talysurf PGI Optics 3-D metrology instrument with advanced Aspheric Analysis software and a Talysurf CCI non-contact 3-D optical profiler from Taylor Hobson along with a Nanoform 250Ultra ultra precision lathe with a rotary B-axis and a fast tool servo from Precitech.
Presentation of the new process will be made by Dr. Jeffery Roblee, who is Divisional Vice President of Technology at Precitech and an active member of the European Society of Precision Engineering and Nanotechnology and the American Society of Precision Engineering and by Erik Stover, Business Development Manager for Taylor Hobson.
Dr. Roblee, who joined Precitech in 2002, holds a number of patents and awards and has presented numerous papers on temperature control, machine dynamics, air-bearing design, optics fabrication and optomechanics. Mr. Stover joined Taylor Hobson in 2010 and has an extensive background in optical manufacturing and process engineering.
Copies of the presentation will be released following the ASPE meeting in November.
Precitech, based in Keene, NH, provides ultra precision, multi-axis, machine tools for applications requiring nano-metric levels of accuracy. Its Nanoform 250Ultra precision diamond turning lathe is specifically designed for the production of optical lenses, optical mold inserts and mirrors as well as precision mechanical components. It is fast and easy to use and boasts an unprecedented 16 picometer feed back resolution and industry-leading operating system with 0.01 nanometer programming resolution.
Taylor Hobson, based in Leicester, England, is an established leader and innovator in ultra-precision measurement instrumentation for a variety of markets, including optics, semiconductors, hard disk drives and nanotechnology research. Its Talysurf PGI Optics 3-D profiler is ideal for 3-D form measurement of shallow- and steep-sided molds and lenses (up to 85 degrees), and with its powerful, proprietary Asphero-Diffractive Analysis software, performs diffractive lens measurement and analysis as well. Its Talysurf CCI 3-D non-contact optical profiler provides highly precise surface texture, step height and micro-dimensional measurement on all types of rough, smooth and highly reflective surfaces.
Both Precitech and Taylor Hobson are units of AMETEK Ultra Precision Technologies, a division of AMETEK, Inc, a leading global manufacturer of electronic instruments and electromechanical devices, with annualized sales of $3.0 billion.
For more information on Precitech's line of ultra-precision machining systems, contact Precitech, 44 Blackbrook Road, Keene, NH 03431, USA. Tel: (603) 357-2511. Fax: (603) 358-6174. E-mail: precitech.machinesales@ametek.com Web site: www.precitech.com
For more information on Taylor Hobson's line of ultra-precision measurement instruments, contact Taylor Hobson, 2 New Star Road, Leicester, LE4 9JQ, UK. Tel: +44 (0) 116 276 3771. Fax: +44 (0) 116 246 0579. E-mail: sales@taylorhobson.com Web site: www.taylor-hobson.com
Featured Product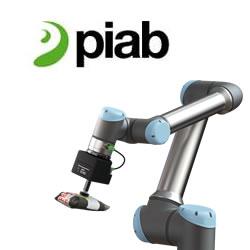 Piab's Kenos KCS gripper enables a collaborative robot to handle just about anything at any time. Combining Piab's proprietary air-driven COAX vacuum technology with an easily replaceable technical foam that molds itself around any surface or shape, the gripper can be used to safely grip, lift and handle any object. Standard interface (ISO) adapters enable the whole unit to be attached to any cobot type on the market with a body made in a lightweight 3D printed material. Approved by Universal Robots as a UR+ end effector.