NDIA recognizes individuals from Ground Robotics Development who have been instrumental in implementing the military's use of ground robotic systems in combat operations
San Diego, CA and Arlington, VA April 17, 2012

The 2012 Ground Robotics Capabilities Conference and Exhibition convened March 21-23, 2012, at the Sheraton San Diego Hotel & Marina in San Diego, California. Over 600 attendees, representing the government, industry and the military, attended this annual conference.
This conference, with co-sponsorship from the National Defense Industrial Association (NDIA) and the Joint Ground Robotics Enterprise (JGRE), presented and examined the vision, as set out in the Department of Defense's "Ground Robotics Vision" report.
The meeting hosted general sessions, featuring distinguished speakers and panels of subject matter experts, poster presentations, and 45 exhibits, showcasing the expanding market of Ground Robotics. Among the many special events were a SPAWAR Facility Tour, demonstrations of cutting-edge robotic technologies, and award ceremonies.
At the award ceremonies, NDIA recognized individuals, within the area of Ground Robotics development, who have been instrumental in implementing the military's use of ground robotic systems in combat operations.
The criterion for recognition was: Must be a proponent for the integration of ground robotic systems into military operations; a strong advocate and spokesperson for the development of enabling technologies and broad applications of ground robotic systems and must come from the military, civil service, congress, or outside the government.
Listed below are the winners of the 2012 Ground Robotics Champion, Technology Innovator, and Air Force Explosive Ordnance Disposal Technician Awards:
Ground Robotics Champion
Lieutenant Colonel Stuart Hatfield, USA, Chief, Lethality Branch, Maneuver, Aviation, & Soldier Division, TRADOC; a leader in the development of the Unmanned Systems (Air, Ground, Maritime) Initial Capabilities Document, which provides an overarching and unifying strategy for the development and employment of interoperable Unmanned Systems
Ground Robotics Technology Innovator - Posthumous Award
Dr. James Albus; an internationally known leader in the theory and design of intelligent systems and their application to robotics and automation systems
Outstanding United States Air Force EOD Senior Non Commissioned Officer
Master Sergeant Michael G. Becker, Explosive Ordnance Disposal Program Manager, HQ Air Force Special Operations Command
Outstanding United States Air Force EOD Non Commissioned Officer
Staff Sergeant Michael A. Newton, Explosive Ordnance Disposal Team Leader, 56th Fighter Wing
Featured Product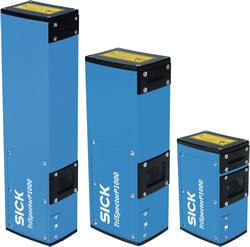 LiDAR (Light Detection and Ranging) is one of the most reliable methods for parts sensing in factory automation today. SICK has made this technology affordable and easy to use! Click on the video link below to learn about the TiM1xx LiDAR sensor and how it provides: - Area scanning LiDAR technology in a standard sensor package - 200-degree field of view and 3 meter sensing range allows for 169 square feet of area scanning - Compact size and light weight enables ease of deployment in "non-standard" type applications, like end-of-arm robotic tooling - Wide area scanning without having to mount a transmitter and receiver makes installation much easier - IO Link for easy configuration