Gstarsoft incorporates pdf2cad into GstarCAD named as PDFtoEXF for users to convert PDF based CAD drawings to DXF format.
Designers are always troubled with bringing vector PDF based on CAD drawings into their engineering environment for various purposes, including viewing, plotting, editing, etc., since most CAD systems do not support PDF as an input format or could not convert accurately.

To help customers save valuable time and improve conversion quality, Gstarsoft incorporates pdf2cad functionality into GstarCAD2012 named as PDFtoDXF for converting vector PDF -based on CAD drawings into DXF files. Users can also save DXF files as DWG format. By implementing this function, users will easily extract the vector geometry from a PDF file to a CAD oriented file format, avoiding redrawing the graphics from scratch or using scanned printouts of PDF to trace or apply raster-to-vector software on.
Pdf2cad is a remarkable plug-in developed by Visual Integrity, enabling users to convert PDF based CAD drawings to their equivalent in a few seconds. Different elements, such as lines, text and images can be reproduced accurately with this converter in DXF format. Besides, batch conversion is also approachable in this converter and also users can configure several options according to their needs.
Users can get access to this plug-in from the menu of Express>PDFtoDXF and it is available in various language versions of GstarCAD2012, greatly expanding the scope of the applicability of users for converting PDF drawings directly into DXF files.
To experience this great converter, users can download GstarCAD2012 for free at:
http://www.gstarcad.net/download.php?for=1.
About GstarCAD
GstarCAD is fast, powerful, .dwg-compatible CAD software for the AEC, mechanical, manufacturing, electrical, GIS, survey and mapping industries. The world-class 2D/3D CAD software platform is based on IntelliCAD technology.
GstarCAD's powerful functions, .dwg compatibility, and programming platform, are built on a cost-effective solution with an easy to user interface. Gstarsoft ensures that your design inspiration comes true.
Contact Information
Web: www.gstarcad.net
Email: sales@gstarcad.net
Tech: support@gstarcad.net
Suzhou Gstarsoft Co., Ltd
No.1355, Jinjihu Avenue, Suzhou Industrial Park, Jiangsu, 215021, China
Phone +86 512 62870220
Fax +86 512 62528938
Beijing Branch
Room 305, Block A, Kejicaifu Center, NO.8, XueQing Road, Haidian District, Beijing, 100085, China
Phone +86 10 82736615
Featured Product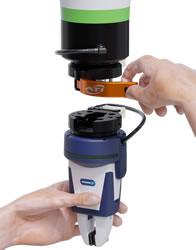 ATI Industrial Automation's MC-10 Manual Tool Changer provides a cost-effective solution for quickly changing tools by hand. Its compact yet robust design is optimized for collaborative robot applications. The ergonomic twist-collar locking mechanism ensures a secure attachment of the tool and easy manual operation with tactile feedback. This Manual Tool Changer can carry payloads of up to 22 lbs and includes multiple fail-safe features that resist vibration and prevent loosening. The MC-10 Manual Tool Changer has integrated air pass-through connections and options to connect electrical utilities if needed. ATI will feature the new MC-10 along with a variety of other robotic demonstrations and product displays at this year's IMTS show in Chicago (Booth #236417).