Alliance Aimed at Increasing Global Market Opportunities in Burgeoning Field; Investment by Mitsui USA Part of Latest Round of $7.1 Million in Funding for Aethon
PITTSBURGH--Aethon, the premier developer of autonomous mobile robots for hospitals and health systems, announced today that it has received an investment from Mitsui & Co. (USA) Inc. The Mitsui USA investment is part of the $7.1 million raised in growth capital in Aethon's latest round of funding.

The investment from Mitsui USA, a wholly owned subsidiary of Mitsui & Co. Ltd., a leading international trade and investment company, supports Aethon's aggressive strategy to work with global leaders as a way to expand its technology platform and gain access into new markets worldwide. Through this investment it is anticipated that Mitsui USA will have the ability to provide operational insight and resources as Aethon begins to explore potential expansion opportunities into Asian markets. This builds upon a strategic partnership Aethon entered into with the Bosch Group in 2010, which has fostered Aethon's expansion discussions into Europe.
"Mitsui is a global leader that can bring valuable expertise in marketing, finance, logistics and process development," said Aethon President and CEO Aldo Zini. "Combining their strengths with our innovative robotic platform and integrated tracking software not only provides new business opportunities for Aethon but reaffirms our standing as the leading provider in our space."
Aethon has grown significantly since its launch into the commercial market in 2005 with its self-guided TUG® robots, nearly 400 of which are currently making more than 50,000 deliveries each week in hospitals across the country. Hospitals rely on TUGs to transport medication, meals, linens, equipment and supplies more safely, securely and promptly.
"Mitsui USA's decision to invest in Aethon was based on the company's sound business strategy, strong management team, impressive performance and vast market potential," said Shigeyuki Toya, general manager of Mitsui's new business development department. "Service robotics represent a global opportunity to target hospitals that want to add efficiencies, enhance patient safety, improve care and realize significant savings. We anticipate substantial growth in healthcare robotics over the next five years, and we expect Aethon to be at the forefront of that movement."
In addition to Mitsui USA and the Bosch Group, Aethon has received investment funding from some of the nation's largest venture capital firms including Trident Capital, a key investor in many successful robotic and technology companies. "Despite uncertainty caused by healthcare reform and an unstable economy, global strategic investors continue to demonstrate an unfaltering confidence in the growing relevance of service robots and particularly in Aethon's proven ability to deliver value through our robotic and logistics solutions," added Zini.
About Aethon
Aethon provides industry-leading, technology-based logistics solutions to hospitals with its TUG robots and MedExTM, a comprehensive medication tracking and delivery system. Nearly 400 TUG self-guided robots have been deployed in 135 hospitals transporting medication, meals, equipment, supplies, linens, lab specimens and more. Collectively, these robots log 50,000 deliveries weekly. More information about Aethon is available at aethon.com.
About Mitsui & Co. (USA) Inc.
Mitsui USA was incorporated in 1966 in New York as a wholly owned subsidiary of Mitsui & Co. Ltd., Tokyo, Japan, a leading international trade and investment company operating with an extensive global network. Beyond traditional trading, the company's newer emphasis is on project development and management, business investment, capital goods leasing and technology transfer. With its comprehensive services capabilities, Mitsui USA aspires to meet the needs of its customers as "Your Global Business Partner®," while committed to sustainable growth and good corporate citizenship. More information on Mitsui USA may be found at www.mitsui.com/us.
Featured Product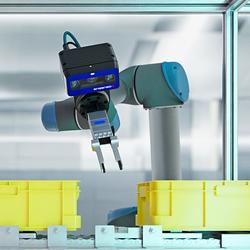 App Your Sensor®! What would smartphones be without apps? They would be mobile phones that can't do much more than make phone calls and sending SMS. Apps turn smartphones into intelligent assistants with any number of different tasks. Transferred into the world of image processing, this app-based approach transforms cameras and sensors into customised, smart vision sensors.