Lead investors include strategic partner Vorwerk Ventures and Noventi Ventures
NEWARK, Calif., April 19, 2012 -- Neato Robotics, Inc., a Silicon Valley company that pioneers new technologies and products to free people from household chores, today announced it has closed $12.2 million in Series D equity financing. Lead investors include strategic partner, Vorwerk Ventures, and Noventi Ventures. The company plans to use the funding to expand operations, sales and marketing, and for future innovation and product development.

"The funding is a strong vote of confidence from our current investors and strategic partners, and will support the momentum and expansion of the company," says Warren Flick, CEO of Neato Robotics, Inc. "Our vision is to leverage our unique robotic technology to bring new, innovative home-cleaning products to the marketplace."
Founded in 2004, after its first product concept won a Stanford University Graduate School of Business competition, the company has since raised a total of $35 million in investor funding. Its core technology differentiation, an intelligent, laser-guided navigation system, paired with the world's most powerful robotic vacuum cleaner system, has positioned the company's products to replace traditional home vacuum cleaners.
Neato Robotics has existing relationships with the lead investors, Vorwerk Ventures and Noventi Ventures. Vorwerk Ventures, a worldwide leader in the direct sale of high-quality household products, formed a strategic partnership with Neato Robotics during 2011. Vorwerk Ventures and Neato Robotics developed a co-branded product for the European market, which is currently being sold exclusively in Germany, Italy, Austria and the Czech Republic. Giacomo Marini, one of the three founders of Logitech Inc. and managing director of Noventi Ventures, an early-stage venture capital firm, is currently the Executive Chairman of Neato Robotics.
Warren Flick, appointed as CEO of the company last May, has led the expansion of Neato Robotics' global distribution to 18 countries outside the U.S. Last fall, the company announced an exclusive deal to sell its automatic vacuum cleaner, the Neato XV-12, at more than 1,750 Target retail locations across the U.S.
About Neato Robotics
Based in Silicon Valley, California, Neato Robotics, Inc. was founded on the idea that it's possible to create robots that are smart enough to perform household chores as intelligently and efficiently as a human. The company is dedicated to improving consumers' lives, allowing them to spend less time cleaning and more time with their families and friends. The team of Neato engineers has squeezed innovation from commodity computing products - creating a smarter, more powerful automatic vacuum cleaner than any previously seen on the market. For more information, please visit: www.neatorobotics.com
About Vorwerk Direct Selling Ventures GMBH
Vorwerk Direct Selling Ventures GMBH is an investment entity within the Vorwerk Group. The company's investment focus is on rapidly growing companies with direct-to-consumer business models. The Corporate Venture Capital company invests worldwide and is based in Germany. Its portfolio includes leading companies such as Dinner-for-Dogs, ENJO, pauldirekt.de, meinauto.de, Neato Robotics, Ringana, Stowa and stylefruits.de. For more information, please visit: www.vorwerk-ventures.de
About Noventi Ventures
Noventi Ventures is an early-stage technology venture capital firm based in Silicon Valley. The firm invests in areas such as consumer electronics, advanced wireless applications, video over IP and cleantech. Noventi focuses on helping entrepreneurs to create world-class companies by addressing large markets with a distinct positioning. Noventi typically gets involved in the first institutional round and works closely with the management teams refining business plans, building and scaling teams, developing go-to-market strategies and syndicating venture financings. For more information, please visit: www.noventivc.com
Featured Product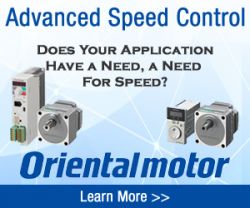 The BLE2 Series replaces our popular BLE Series and continues our brushless motor advantages by featuring an all new compact, high-power and high-efficiency brushless DC motor combined with a Driver that can be digitally set and controlled via external DC voltage or by the front panel. The BLE2 Series can easily compete with larger 3-phase inverter driven motors in many more applications, with built-in simple holding torque function, saving space and increasing performance thanks to the advantages of a brushless motor design. The BLE2 Series has a maximum speed of 4000 r/min, achieving a speed ratio of 1:50 (80 to 4000 r/min). The new motor structure is small than previous models and enables high power and high efficiency while incorporating easy setting, installation and wiring. The new motor connector offers IP66 degree of protection and allows for easy and direct connection between motor and driver with two available orientation of cable outlet direction. Standardized use of stain