These robotic prostheses can sense their environment and predict a user's intentions
HOUSTON--With advanced new robotic limbs poised to dramatically improve the lives of wounded veterans and other amputees, Quantum International Corp. (OTCBB:QUAN) is exploring new opportunities to deliver bionic solutions to a growing market of patients ready to reclaim their independence.

New innovations have made cutting-edge bionic limbs featuring machine intelligence possible for the first time. These robotic prostheses can sense their environment and predict a user's intentions. Complex algorithms allow the devices to more closely mimic the behavior of natural limbs, even allowing users to control bionic arms and legs with their brains.
"The new bionic limbs that are appearing on the market represent the future of robotic," said QUAN CEO Robert Federowicz. "These devices actually combine a number of robots into a single arm or leg that all work in concert with one another to produce the most functional prostheses ever. Continuing breakthroughs are making this sector very attractive from a growth perspective."
Quantum International is currently investigating ways to capitalize on the demand for the new robotics technologies that are making advanced bionics possible. In addition to limb replacement, these innovations hold a great deal of promise for enhancing the abilities of the able-bodied, as well.
The company plans to announce its initial business targets in the red-hot robotics space soon. For more information on Quantum International's robotics initiatives, please visit http://www.quantuminternationalcorp.com/investors.html.
Quantum International Corp. is working to develop the next generation of robotics technology to compete in a booming global industry alongside Hansen Medical, Inc. (Nasdaq:HNSN), MAKO Surgical Corp. (Nasdaq:MAKO), Covidien (NYSE:COV), Varian Medical Systems Inc. (VAR), and Accuray Incorporated (Nasdaq:ARAY).
About QUAN International Corp.
Quantum International Corp. (OTCBB: QUAN) is an emerging robotics innovation company working to commercialize the next generation of sophisticated, automated technology. The Company is positioning itself to develop, deliver and market the most cutting-edge innovations in robotics in order to leverage the worldwide demand for the precision, speed, and cost-effectiveness these technologies offer.
For more information about Quantum International Corp., please visit http://www.quantuminternationalcorp.com.
Featured Product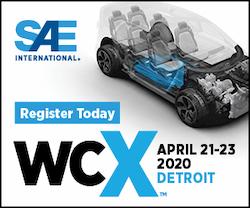 As the global leader in connecting and educating engineers, SAE International® brings you WCX 2020 World Congress Experience, the only place for the latest in consumer metrics, regulatory standards and technical sessions covering the entire vehicle, from bumper to bumper and beyond.