NTMA Sponsored League Helps Students Learn Skills Needed for Careers in Manufacturing
INDEPENDENCE, Ohio--Twenty-two teams from as far away as Arizona and Florida will bring robots ready to do battle to the 2012 National Robotics League (NRL) Championships at the Circle Centre Mall in Indianapolis on May 5-6, 2012, the National Tooling and Machining Association (NTMA) announced today. NTMA created the NRL, a robot combat competition, to introduce a new generation of Americans to manufacturing.

The following schools have currently qualified for the 2012 NRL Championships:
*Bloomsburg Area High School - Bloomsburg, PA
*Blue Ridge High School - Lakeside, AZ
*Cambridge Springs High School - Cambridge Springs, PA
*Centerville High School - Centerville, OH
*Conneaut Lake High School - Conneaut Lake, PA
*Dunwoody College of Technology - Minneapolis, MN
*Highlands High School - Natrona Heights, PA
*Milford High School - Milford, OH
*Mooresville High School - Mooresville, IN
*North St. Paul High School - Maplewood, MN
*Plum Senior High School - Plum, PA
*Propel Braddock Hills High School - Pittsburgh, PA
*Prosser Career Education Center - New Albany, IN
*Slinger High School - Slinger, WI
*Springboro High School - Springboro, OH
*The Pennsylvania State University-University Park - University Park, PA
*University of South Florida - Tampa, FL
*Upper Valley Career Center - Piqua, OH
*West Geauga High School, Chesterland, OH
*Winchester High School, Winchester, MA
*Wright State University - Dayton, OH
*Wright State University - Lake Campus - Celina, OH
Clashes begin Saturday, May 5 with preliminary rounds followed by quarterfinals, semi-finals and final rounds that will take place through Sunday, May 6. Circle Centre Mall is located at 49 West Maryland St. in Indianapolis.
NTMA founded the NRL to help change misperceptions about manufacturing and attract a new generation of students to well-paying technical careers. The program partners teams of middle school, high school, and post-secondary school students with local NTMA manufacturers to build robots designed to do battle. The result is not only a destruction-driven face-off of incredible machines, but also an opportunity to develop high-tech skills and cultivate the interest of a new generation of students who will determine the future of manufacturing.
Media can register for the event by contacting Caitlin Andrews at 202-828-7637 or caitlin.andrews@bgllp.com.
For additional information about the NRL, visit www.gonrl.org. For additional information on NTMA, visit www.ntma.org.
About NTMA: NTMA's over 1,300 member companies design and manufacture special tools, dies, jigs, fixtures, gages, special machines and precision-machined parts. Some firms specialize in experimental research and development work as well as rapid prototyping. Many NTMA members are privately owned small businesses, yet the industry generates sales in excess of $40 billion a year. NTMA's mission is to help members of the U.S. precision custom manufacturing industry achieve business success in a global economy through advocacy, advice, networking, information, programs and services.
Featured Product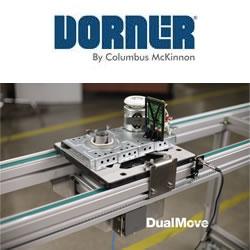 Dorner's 2200 Series Precision Move Pallet Systems are ideal for assembly automation. With features such as an innovative timing belt conveyor design and industry best pallet transfers, they get your product to the exact location, at the exact time and in the exact position it needs to be. They are now available with new options such as heavy load corner modules with 150 lb. capacity and 180 degree tight transfer corners for compact loops.