Famed inventor to focus on his FIRST educational program and the potential of additive manufacturing with laser-sintering
May 14, 2012

NOVI, Mich.--Inventor Dean Kamen is coming to Atlanta May 22nd. And he's bringing the future with him. The celebrated founder of DEKA Research and Development Corporation will address the North American User Day (NAUD) meeting held by EOS, the world leading manufacturer of laser-sintering systems. His talk is titled "Growing Innovation and FIRST Innovators."
DEKA has used direct metal laser sintering (DMLS) in the development of a futuristic prosthetic arm, among other devices. FIRST (For Inspiration and Recognition of Science and Technology) is Kamen's initiative to motivate young people to become science and technology leaders.
"It's inspiring to see the innovative uses that young minds can make of everyday manufacturing processes," Kamen says. "What they can achieve with a breakthrough additive process like laser sintering is beyond imagining."
"EOS has been honored to work with Dean and his company on metal laser-sintered parts for the Luke prosthetic arm prototype," says Dr. Hans J. Langer, founder and CEO of EOS. "We look forward to seeing what he and DEKA will design to take advantage of their plastic systems." DEKA now has EOS FORMIGA P 100 and EOSINT P 395 plastic laser-sintering solutions, which it uses for prototyping, fixtures, and manufacturing.
NAUD coincides with RAPID 2012 (May 22-25), an SME-sponsored show in the same Atlanta venue. EOS will exhibit at RAPID in booth #109, where they will demonstrate an operating FORMIGA P 100 and display plastic and metal laser-sintered products from many industries. Dr. Siavash Mahdavi, managing director of WITHIN Technologies Ltd., will be a guest at the booth and speak at NAUD. WITHIN's FEA/CAD optimization software works with plastic and metal laser-sintering systems to create strong, lightweight parts, including novel, load-bearing lattice structures.
Dean Kamen's May 22nd talk is scheduled for 4:30 p.m. in the International South Meeting Room of the Hyatt Regency and is open to EOS users and registered press. There will also be a live musical performance during NAUD on a laser-sintered violin created in a single piece from PEEK thermoplastic.
About Dean Kamen
A prolific inventor, Dean Kamen holds more than 440 U.S. and foreign patents in areas ranging from medicine and energy to robotics and transportation. He is widely known as the inventor of the Segway personal transporter. His many awards include a National Medal of Technology (2000), the Lemelson MIT Prize for Invention and Innovation (2002), induction into The National Inventors Hall of Fame (2005), the American Society of Manufacturing Engineers Medal (2007), and honorary degrees from more than 25 colleges and universities. Kamen founded the nonprofit FIRST (For Inspiration and Recognition of Science and Technology) in 1989 to challenge and encourage students in engineering and technology.
About EOS
Founded in 1989 and headquartered in Germany, EOS is the technology and market leader for design-driven, integrated e-Manufacturing Solutions. The modular EOS solution portfolio comprises of systems, application know-how, software, process parameters, materials and material development. EOS supports their customers with a variety of services, maintenance, application consulting and training offerings. The Additive Manufacturing (AM) process allows the fast and flexible production of high-end parts at a repeatable industry level of quality. As a disruptive technology it paves the way for a paradigm shift in product design and manufacturing. The technology accelerates product development, allows for freedom of design, optimized structural layouts - enabling e.g. lightweight lattice structures - and functional integration of parts, thus creating significant competitive advantages for their customers. For more information visit www.eos.info.
Featured Product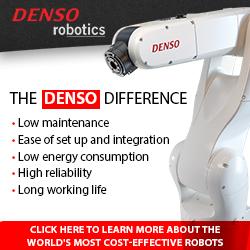 DENSO is the world's largest manufacturer - and user - of small assembly robots, employing over 17,000 of its robots in its own facilities. Over 77,000 additional DENSO robots are used by other companies worldwide. The compact, high-speed robots are used in traditional manufacturing sectors, as well as in advanced-technology applications in the medical, pharmaceutical and life sciences industries. Learn more about DENSO Robotics