Gstarsoft launched GstarCAD MC 1.2 for Apple's IOS to give more convenience to users.
Beijing, China: May 16, 2012-With the release of GstarCAD MC1.1 for Apple's IOS last year, this free Mobile Client has attracted users all over the world with its features and received high praise. As the leading 2D/3D CAD software provider, Gstarsoft today proudly launched GstarCAD MC 1.2, the latest upgrading version.

Compared with the previous version, GstarCAD MC 1.2 has been enhanced a lot. The highlight of this version in functionality is the capability of opening attachments in the email and sending email as well. After downloading the attachments from the mail, users can view and edit the .ocf format attachments in the GstarCAD MC 1.2 directly. Unlike the previous version that the converted .ocf files have to be transmitted to iPad & iPhone and iTouch through iTunes and data cable, this version supports email manipulation which brings more convenience. What's more, sharing drawings becomes faster in this way.
In addition to the attachments in the email that are accessible, the .ocf files in various storage applications such as webpage, network hard drive and cloud computing storage are also approachable. Users can download the .ocf files from their storages, for example, Google Drive, SkyDrive, Baidu Network Disc etc. What's more, users can also set up a synchronous path in their computers. The .ocf files can be synchronously transmitted to their storages as long as these files have been copied to this path.
The next version is also in development and will be released soon. Some powerful functions will be included in this version, such as operating on the new iPad which has high resolution, layers view, three-dimensional shading, etc.
Price and Availability
The software is now available at no charge from the Apple iTunes Store at
http://itunes.apple.com/app/gstarcad-mc/id456933691?mt=8
About GstarCAD
GstarCAD is fast, powerful, .dwg-compatible CAD software for the AEC, mechanical, manufacturing, electrical, GIS, survey and mapping industries. The world-class 2D/3D CAD software platform is based on IntelliCAD technology.
GstarCAD's powerful functions, .dwg compatibility, and programming platform, are built on a cost-effective solution with an easy to user interface. Gstarsoft ensures that your design inspiration comes true.
Featured Product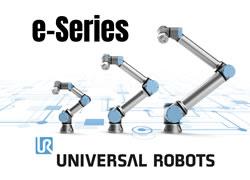 With the new e-Series cobot line, Universal Robots raises the bar for cobots, adding unique new features while significantly strengthening the four core principles defining collaborative robots: fast set-up, easy programming, flexible deployment, and safe operation. With a new built-in, tool-centric Force/Torque sensor the e-Series is ready to take on applications requiring force control right out of the box. A repeatability of 30 micron means the new cobots are suitable for very precise finishing, assembly and electronics tasks. A re-designed user interface decreases cognitive load and expedites program development, while a new externally accessible, 500Hz system bus enables more complex motion control algorithms or profiles.