Order to Swisslog Reflects Increased Market Demand for RoboCourier in the Hospital Market
Adept Technology, Inc. (Nasdaq:ADEP), a leading provider of intelligent robots and autonomous mobile solutions and services, today announced the delivery of a record shipment of autonomous mobile robots to Swisslog Healthcare Solutions (HCS) for use in hospitals, labs, and clinics to transport specimens, lab samples, and pharmaceuticals. The order totaled close to $500,000 in revenue and was recognized in Adept's third fiscal quarter of 2012.

Swisslog actively ships an autonomous mobile robot called the RoboCourier™, which is manufactured by Adept and built on the Adept MT400™ platform. This recent shipment significantly expands the number of hospitals around the country able to realize simplified transport of materials, a chore that had previously distracted staff from their primary activities. These staffers are freed to spend their working hours accessioning specimens, performing tests, and on other activities specific to delivering increased levels of patient care.
Swisslog RoboCouriers™ are currently in operation at fifteen different hospital locations; many of which have been in operation for over three years. Hospitals realize the benefit of using the RoboCourier because it fits well into lean process improvements such as: reducing time spent walking, allowing for better flow by reducing the batch size of specimens, allows staff to focus on patient care tasks by minimizing distractions, and improving overall lab efficiency. The RoboCourier helps hospitals reduce their cost to perform lab work by increasing efficiency, improving workflow, and maximizing operational capacity.
About Swisslog
Swisslog Healthcare Solutions is the leading supplier of logistics automation solutions for healthcare facilities. Swisslog has installed automated materials transport and medication management systems in more than 3,000 hospitals around the world, including more than 2,000 in North America. Swisslog offers total systems design, manufacturing, installation and customer support providing a complete supply chain management approach to the logistics challenges of hospitals. The North American division of Swisslog Healthcare Solutions is based in Denver, Colo. Additional information is available at www.swisslog.com.
About Adept Technology, Inc.
Adept is a global, leading provider of intelligent robots and autonomous mobile solutions and services that enable customers to achieve precision, speed, quality and productivity in their assembly, handling, packaging, testing, and logistical processes. With a comprehensive portfolio of high-performance motion controllers, application development software, vision-guidance technology and high-reliability robot mechanisms with autonomous capabilities, Adept provides specialized, cost-effective robotics systems and services to high-growth markets including Packaging, Medical, Disk Drive/Electronics, and Solar; as well as to traditional industrial markets including machine tool automation and automotive components. More information is available at www.adept.com.
Featured Product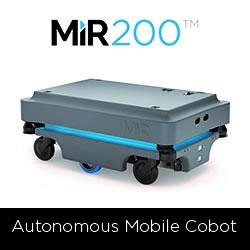 MiR200 is a safe, cost-effective mobile robot that automates your internal transportation. The robot optimizes workflows, freeing staff resources so you can increase productivity and reduce costs. MiR200 safely maneuvers around people and obstacles, through doorways and in and out of lifts. You can download CAD files of the building directly to the robot, or program it with the simple, web-based interface that requires no prior programming experience. With its fast implementation, the robots offers a fast ROI, with payback in as little as a year.