KUKA Roboter at AUTOMATICA 2012
Augsburg/Munich, May 2012 - A for "AGILUS", B for "Broad range of products and services" and C for the "Common control system KR C4": At the international trade fair for automation, being held in Munich from 22 to 25 May, KUKA is showing how to make automation as easy as A B C at Booth 211/221 in Hall B3. The company will be showcasing automation solutions from a single source, with the KR QUANTEC series variants, new areas of expertise in small robots and the KR C4 robot controller.

With its broad range of products, KUKA Roboter GmbH offers automation solutions for a vast array of customer requirements. New products, expansion of the service-proven robot family and innovative control technologies enable the Augsburg-based robotics specialist to demonstrate its areas of expertise in general industry.
Core competency in small robots expanded
The KR AGILUS robot series, the new small robot family from KUKA, is making its world premiere. The KR AGILUS excels in the 6 kg and 10 kg payload categories with utmost precision at extremely high speeds. It is predestined for handling tasks with very short cycle times.
New arrivals in the KR QUANTEC family
In their first family outing together, the variants of the KR QUANTEC series are demonstrating their broad performance range. The robot family covers the entire high payload range from 90 to 300 kg, with reaches from 2,500 to 3,100 mm. At AUTOMATICA, press-linking robots for the metalworking industry, shelf-mounted robots for the plastics industry, palletizing robots for the logistics sector and Foundry variants for foundry settings are demonstrating their flexibility in applications covering all areas of general industry.
Simple KR C4 controller
All KUKA robot types have something in common: their open architecture and the features of the KR C4 controller generation. In addition to robot, motion, sequence and process control, safety control has also been seamlessly integrated into the control system. The KR C4 thus not only ensures the simple implementation of dedicated monitoring functions; more importantly, the control technology ensures that the motion and velocity of the robot can be influenced safely. Furthermore, expanded software packages for a wide range of applications and customer requirements are also being presented. The machine tool industry now has the software packages mxAutomation and KUKA.CNC at its disposal, enabling the robot and machine tool to work together more efficiently as a system and simplifying production.
Small robots: two approaches - two technologies
Precision and speed are the defining characteristics of the new KR AGILUS small robot series.
The tried-and-tested 7-axis LWR, as a sensitive lightweight robot with integrated sensors, is opening up new possibilities for a wide range of industrial applications.
At the trade fair booth, visitors can convince themselves of the features of both small robot solutions.
Automation is easy
Flexibility, openness, simplicity and safety are the central pillars of successful automation. KUKA Roboter offers general industry customer-specific automation solutions from a single source. With the new areas of expertise in small robots, the expanded KR QUANTEC family and the flexible KR C4 robot controller, KUKA Roboter is demonstrating at AUTOMATICA 2012 that even complex automation tasks are easy with pioneering ideas.
About the KUKA Robot Group
KUKA Roboter GmbH, with its headquarters in Augsburg, is a KUKA Aktiengesellschaft company and ranks among the world's leading suppliers of industrial robots.
Core competencies are the development, production and sale of industrial robots, controllers and software. The company is the market leader in Germany and Europe, and the number three in the world. KUKA Roboter GmbH employs about 2750 people worldwide. In 2011, sales totaled 616.3 million euro.
25 subsidiaries provide a presence in the major markets of Europe, the Americas and Asia.
Featured Product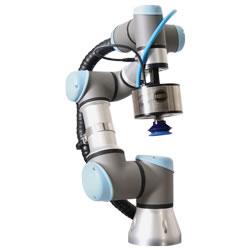 The Collaborative Robot Vacuum Tool (CRVT) from Bimba adds unparalleled flexibility to your collaborative robot. The standard CRVT is highly configurable to meet your application needs, but simple to install and operate. This fully integrated tool means all you need to supply is compressed air and a signal to control the valve. A variety of standard and custom options make the Bimba CRVT the perfect tool for your next collaborative robot project.