Small unmanned aircraft systems to demonstrate broadband network and long distance communications link for the FCC Deployable Aerial Communications Architecture Notice of Inquiry proceeding
MONROVIA, Calif., May 24, 2012 - AeroVironment (NASDAQ: AVAV) today announced it will employ its small unmanned aircraft systems (UAS) to demonstrate aerial communications capabilities for the Federal Communications Commission's Deployable Aerial Communications Architecture (DACA) Notice of Inquiry (NOI) proceeding. The DACA NOI is examining the ability to re-establish communications rapidly using aerial platform technology following a natural or man-made disaster that renders existing communications networks unusable.

AeroVironment will support the DACA program by conducting demonstrations using its family of portable, hand-launched small UAS for airborne communication relay. Transportable in a backpack or vehicle and operated using a hand-held control unit, AeroVironment's small UAS can be assembled and launched in less than five minutes and can fly for between 45 minutes and two hours, depending on the model.
The demonstrations will utilize AeroVironment's Digital Data Link (DDL), a standard component of its small UAS, as well as third party communications payloads to connect users with data and voice over long distances. The DDL enables encrypted, beyond-line-of-sight voice, video, data and text communication through each unmanned air vehicle and ground station, and will provide broadband network connectivity for the DACA demonstration. Off-the-shelf communication relay payloads carried by the small UAS will enable hand-held public safety and emergency response radios to communicate with one another over long distances or beyond-line-of-sight, and without ground-based antennas or repeaters.
AeroVironment will work with the FCC to obtain appropriate experimental licenses, coordinate the demonstrations, and showcase how portable, rapidly deployable and affordable small UAS technology can be used to support the DACA mission.
"AeroVironment's small UAS have proven themselves to be reliable, rugged, and cost-effective lifesaving tools for troops on the frontline," said Roy Minson, AeroVironment senior vice president and general manager of Unmanned Aircraft Systems. "We are seeing only the beginning of the utility these tools can deliver to military and non-military users. By demonstrating how small UAS can also provide instant communications capabilities we hope to help the FCC and industry envision valuable new applications of our technology to preserve lives, property and resources."
# # #
About AeroVironment's Small UAS
RQ-11B Raven®, Wasp AE™, RQ-20A Puma™ and Shrike VTOL™ comprise AeroVironment's Family of Small Unmanned Aircraft Systems. Operating with a common ground control system (GCS), this Family of Systems provides increased capability to the warfighter that can give ground commanders the option of selecting the appropriate aircraft based on the type of mission to be performed. This increased capability has the potential to provide significant force protection and force multiplication benefits to small tactical units and security personnel. AeroVironment provides logistics services worldwide to ensure a consistently high level of operational readiness and provides mission services for customers requiring only the information its small UAS produce. AeroVironment has delivered thousands of new and replacement small unmanned air vehicles to customers within the United States and to more than a dozen international governments.
The Qube small UAS is tailored to law enforcement, first response and other public safety missions. Small enough to fit easily in the trunk of a car, the Qube system can be unpacked, assembled and ready for flight in less than five minutes, giving the operator a rapidly deployable eye in the sky at a fraction of the cost of manned aircraft and large unmanned aircraft.
About AeroVironment, Inc.
AeroVironment is a technology solutions provider that designs, develops, produces, supports and operates an advanced portfolio of Unmanned Aircraft Systems (UAS) and electric transportation solutions. Agencies of the U.S. Department of Defense and allied military services use the company's electric-powered, hand-launched unmanned aircraft systems extensively to provide situational awareness to tactical operating units through real-time, airborne reconnaissance, surveillance and communication. Multiple government agencies have helped to fund the development and demonstration of Global Observer®, a hybrid-electric, stratospheric UAS designed to provide affordable, persistent reconnaissance and communication over any location on the globe. Switchblade™ is a loitering munition designed to provide a rapid, lethal, pinpoint precision strike capability with minimal collateral damage. AeroVironment's electric transportation solutions include a comprehensive suite of electric vehicle (EV) charging systems, installation and data services for consumers, automakers, utilities and government agencies, power cycling and test systems for EV developers and industrial electric vehicle charging systems for commercial fleets. More information about AeroVironment is available at www.avinc.com.
Featured Product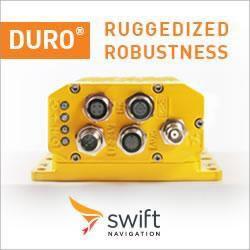 Duro® and Duro Inertial are enclosed dual-frequency RTK GNSS receivers. Designed and built to survive long-term, outdoor deployments, the easy-to-deploy Duro and Duro Inertial combine centimeter-accurate positioning with military ruggedness at a breakthrough price. Duro Inertial features an integrated IMU for continuous centimeter-accurate positioning in the harshest of outdoor deployments.