Leading Standards Organizations Join Forces to Explore Common Global Architecture for Next Internet Generation
PISCATAWAY, N.J. & BEIJING--EEE Standards Association (IEEE-SA) today announced it is collaborating with the China Communications Standards Association (CCSA) on a new "Internet of Things" (IoT) standards workshop. Scheduled for June 5, 2012 at the China World Hotel in Beijing, China, the CCSA/IEEE-SA Internet of Things Standards Workshop, co-hosted by IEEE-SA and CCSA, brings together leading global industry experts to begin exploring how to achieve a common IoT architecture.

"The IoT offers vast untapped potential for innovation, but there's an inherent need for a common, extensible architecture to take full advantage of those opportunities," said Mary Lynne Nielsen, director of corporate programs, IEEE-SA. "Standardizing on a common architecture will help ensure interoperability, compatibility, and reliability, enabling the IoT to truly become a change agent for continued technology advancement. By facilitating an open dialog among key stakeholders, this workshop will move the process forward, putting us that much closer to making the IoT a reality."
Representing the next iteration of the Internet where objects and systems will be connected, communicating and exchanging data without human intervention, the IoT spans a diverse array of applications. Smart Grid, home and industrial automation, transportation, robotics, and automotive are among the many settings ideally suited to IoT applications. The half-day workshop will address these possible applications, as well as a broad variety of topics such as current standards work and convergent networks and machine-to-machine (M2M) communications. The agenda features a cross-section of speakers and panelists from CCSA and IEEE-SA, as well as the transportation and coal mining sectors, IT, integrated service providers, telecom operators, institutes, and other leading global organizations and enterprises such as IBM, Siemens, and STMicroelectronics.
"The IoT has the capacity to be a transformative force, positively impacting the lives of millions worldwide. With the collaborative efforts of two world-class standards organizations, we can help those individuals and organizations architecting the IoT to better understand what it can bring to people's lives and aid them in fully realizing their vision," said Bingmei Wu, deputy secretary-general, CCSA. "We are very pleased to be working in partnership with IEEE to bring the IoT to life."
The CCSA/IEEE-SA Internet of Things Standards Workshop will be held Tuesday, June 5, 2012 at the China World Hotel, Beijing, China; additional event information is available at http://www.ccsa.org.cn/ccsa_ieee. For more information on CCSA, please visit http://www.ccsa.org.cn/english. To learn more about IEEE-SA, visit us on Facebook at http://www.facebook.com/ieeesa, follow us on Twitter at http://www.twitter.com/ieesa or connect with us on the Standards Insight Blog at http://www.standardsinsight.com.
About the IEEE Standards Association
The IEEE Standards Association, a globally recognized standards-setting body within IEEE, develops consensus standards through an open process that engages industry and brings together a broad stakeholder community. IEEE standards set specifications and best practices based on current scientific and technological knowledge. The IEEE-SA has a portfolio of over 900 active standards and more than 500 standards under development. For more information visit http://standards.ieee.org/.
About IEEE
IEEE, the world's largest technical professional association, is dedicated to advancing technology for the benefit of humanity. Through its highly cited publications, conferences, technology standards, and professional and educational activities, IEEE is the trusted voice on a wide variety of areas ranging from aerospace systems, computers and telecommunications to biomedical engineering, electric power and consumer electronics. Learn more at http://www.ieee.org.
Featured Product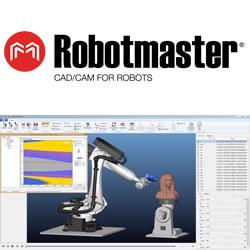 Since Robotmaster V7 uses integrated CAD/CAM functionality, for the first time, the power of Robotmaster can be used by welding, cutting and other process experts without buying or learning complex CAD/CAM software. As in past versions, Robotmaster V7 imports paths, but now makes it even easier for end users to leverage any CAD/CAM tool choice. It is an intuitive tool that anyone could use, with or without robotics expertise. It bridges the gap between robots and manufacturing by providing easy programming solutions for part manufacturing.