ISR Group is a leader in unmanned aerial vehicles, ground robotics, and underwater inspection and recovery services for government and commercial clients.
SAVANNAH, Tenn.--ISR Group, Inc. joined Vanguard Defense Industries in Laredo, Tex. to conduct a flight demonstration of the ShadowHawk unmanned aerial vehicle at the Laredo Fire/Public Safety International Training Facility on June 22. Congressman Henry Cuellar (D-Laredo) and City of Laredo Mayor Raul Salinas were in attendance to view the ShadowHawks' capabilities for homeland security and first responder support.

"In this era of rapidly-evolving technology, it is important that government, law enforcement and first responders make it a priority to stay aware of all tools available to them in order to ensure that they remain on the cutting edge," Congressman Cuellar said. "Unmanned aerial vehicles are an efficient and effective way for our emergency responders to leverage limited resources and manpower."
"We are pleased to see strong leaders like Congressman Henry Cuellar and Mayor Raul Salinas support the advancement of UAVs for domestic uses," said Mr. Alvin Jackson, President, ISR Group. "This event is an important first step in the movement to help our country's leaders understand the value UAVs provide in saving civilian lives and protecting those on the frontlines of duty."
ISR Group is a leader in unmanned aerial vehicles, ground robotics, and underwater inspection and recovery services for government and commercial clients and currently provides unmanned systems services and training to several of the world's leading UAV manufacturers. The ShadowHawk, manufactured by Vanguard, can operate in adverse weather conditions to aid first responders and homeland security officials in emergency missions in a substantially safer and more cost-effective way. It has a unique ability to provide live-streaming information at either low altitudes for detailed inspections or at higher altitudes of up to 700 feet without being heard or seen, unlike a full-sized, manned aircraft.
About ISR Group, Inc.
ISR Group is a HUBZone certified, veteran-owned small business located in Savannah, Tenn. ISR Group provides Technical Services, Training Systems, Logistics and Depot Maintenance, and Range Services for the development and deployment of aerial, ground, maritime, and near space Unmanned Vehicle Systems. ISR Group is registered with the U.S. Department of State's Office of Defense Trades Controls Compliance as a Manufacturer and Exporter of defense articles and/or defense services. ISR Group is fully compliant with all requirements established by the Arms Export Controls Act and International Traffic in Arms Regulations.
More information can be found at www.isrgroup.com.
Featured Product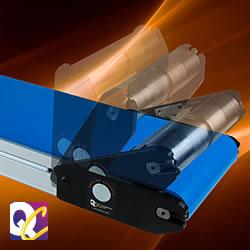 AS40 Conveyors are designed for ease of use and simple integration with robotic applications. Built on a rigid aluminum frame, they feature tee slots for rapid accessory mounting and a tail that flips up at the push of a button for easy under-belt cleaning and belt changes. Nosebar tails are available for transferring small parts between conveyors. All conveyors include a 10 Year Warranty and most are available with a fast five day lead time.