June 27, 2012

HOUSTON--Quantum International Corp. (OTCBB: QUAN) is pleased to announce that it has opened negotiations with a prestigious robotics institute in Europe to potentially help commercialize cutting-edge robotics technologies.
The interdisciplinary institution could be an excellent fit for QUAN's mission to deliver the next generation of robotics to a hungry, global marketplace. The organization has a well-stocked pipeline of international robotics projects that may prove revolutionary to a variety of industries.
Quantum CEO Robert Federowicz is currently overseas to handle the talks personally. The company's leadership expects to move forward with a letter of intent to pursue a definitive agreement with the robotics institute later this week.
For more information on Quantum International's robotics initiatives, please visit http://www.quantuminnovators.com/investors.html.
Quantum International Corp. is working to develop the next generation of robotics technology to compete in a booming global industry alongside Intuitive Surgical, Inc. (NasdaqGS: ISRG), iRobot Corporation (NasdaqGS: IRBT), Medtronic, Inc. (NYSE: MDT) and Dover Corp. (NYSE: DOV).
Featured Product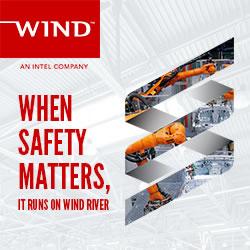 When it comes to ensuring the development of can't-fail systems, Wind River® is a leader with a proven track record of success. With more than 30 years of experience in embedded software and a portfolio of products deployed across more than 2 billion devices, Wind River delivers safety and security when it counts most. From industrial automation to automotive systems, as well as in healthcare devices, railway operations, and throughout the aerospace and defense sector, Wind River has extensive expertise providing built-in safety for complex, connected, safety-critical systems.