New 3DCS Mechanical Variation Analyst Provides Streamlined Modeling for Mechanical Assemblies
BROOMFIELD, Colo.--Spatial Corp., the leading provider of 3D development components for design, manufacturing and engineering applications, today announces Dimensional Control Systems, Inc. (DCS) has launched their newest product 3DCS Mechanical Variation Analyst (3DCS Mechanical), a new streamlined dimensional analysis solution. DCS, a provider of dimensional engineering software solutions and consulting services, offers solutions which give corporations the tool set for improving / validating the design in a virtual prototype arena prior to cutting any tools, saving time and a significant amount of money.

3DCS Mechanical delivers simplified stand-alone modeling of mechanical and kinematic assemblies or as an add-on for 3DCS Variation Analyst, one of the core DCS software platforms. 3DCS Mechanical provides a library of joints and constraints to model assembly processes beyond simple sets. These assemblies can be static, or they can move through a range of motion
To address the need for advanced non-linear equation solving capabilities within 3DCS Mechanical, DCS relied on the partnership and expertise of Spatial Corp., supplier of the General Geometric Constraint Manager (GGCM) developed by ALS Geometric Software S.A.. Using GGCM, 3DCS Mechanical is able to perform a range of analysis on assemblies that may bind or fail to articulate, allowing problem discovery and resolution in a virtual environment prior to production when escalating costs and project delays can be disastrous.
Complex assembly analysis and advanced non-linear equation solving, combined with large-tolerance joint handling capabilities, are some of the features of GGCM that DCS leveraged. "The partnership between DCS and Spatial provides mutual benefit," notes Linda Lokay, VP Marketing & Business Development at Spatial, "DCS can deliver key differentiating solutions by partnering with Spatial and Spatial gains better insight and knowledge about the stringent requirements needed by DCS helping advance our components."
"We have built this new tool in response to our customer's needs, and will continue to streamline its functionality to make it the perfect tool for mechanical assemblies," says John Mathieson, Executive Vice President and COO at DCS, "With the assistance of our partner, Spatial Corp, we have created a unique software solution that raises the bar for variation analysis."
About Dimensional Control Systems
Dimensional Control Systems Inc. (DCS) is a world-class experienced provider of dimensional engineering software solutions and consulting services. Established in 1994, DCS is a privately held company with partners and customers around the world. Leading organizations like Airbus, BMW, Boeing, Chrysler, Daimler AG, Embraer, General Motors, Herman Miller, IBM, Lockheed Martin, Volkswagen, and many major tier-one and tier-two suppliers use DCS solutions to optimize product design and manufacturing processes, improve quality, and reduce program cost and timing. DCS's 3D tolerance analysis and quality assurance software applications fully support the entire product quality lifecycle. For more information, see www.3dcs.com.
About Spatial
Spatial Corp., a Dassault Systèmes subsidiary, is a leading provider of 3D development software components for technical applications across a broad range of industries. Spatial's 3D modeling, 3D visualization, and CAD translation software components help application developers deliver market-leading products, maintain focus on core competencies, and reduce time-to-market. For 25 years Spatial 3D components have been adopted by the world's most recognized software developers, manufacturers, research institutes, and universities. Headquartered in Broomfield, Colorado, Spatial has offices in the USA, Germany, Japan, China and the United Kingdom. For more information, please visit www.spatial.com or contact Spatial by email at info_spatial@3ds.com or by phone at 303-544-2900.
Featured Product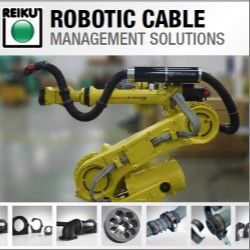 REIKU's Cable Saver™ Solution eliminates downtime, loss of revenue, expensive cable and hose replacement costs, maintenance labour costs. It's available in three sizes 36, 52 and 70 mm. All of the robots cables and hoses are protected when routed through the Cable Saver™ corrugated tubing. The Cable Saver™ uses a spring retraction system housed inside the Energy Tube™ to keep this service loop out of harms way in safe location at the rear of the Robot when not required. The Cable Saver™ is a COMPLETE solution for any make or model of robot. It installs quickly-on either side of the robot and has been tested to resist over 15 million repetitive cycles.