New State-of-the-Art Robotic Lid Applicator Solution Maximizes Production and Reduces Loading Time
GREENVILLE, Wisconsin. July 12, 2012, QComp Technologies, Inc., a leading robotics integrator,announced the expansion of its robotic lid applicator product line to include a high capacity lid dispenser. The newly designed lid dispenser will provide QComp customers with state of the art robotic solutions to maximize production and reduce loading time.

"QComp's lid applicators are designed to maximize throughput by using their unique lid feed system," stated Gregg Wheeler, application engineer at QComp. "The new high capacity dispenser also reduces time spent on loading."
The QComp Lid feed system and the high speed delta robots can be configured in single and dual cells to deliver speeds up to 240 lids per minute. In May of 2012, QComp introduced its first update to the lid applicator by adding LPSX technology. LPSX technology, now a standard option for all lid applicators, maximizes production by allowing an operator to inspect the glue patterns on the lid, without interrupting the production process. Minimizing loading time allows operators to focus less on restocking the machine and more time focusing on other tasks.
For more information regarding QComp's solo case packer please contact the company by phone 920-757-0775, email info@qcomptech.com or view their website www.qcomptech.com.
Founded in 1990, QComp Technologies, Inc. is a robotics integrator, providing automation solutions for a variety of industries. The company designs and builds automated robotic manufacturing cells and materials handling systems, as well as engineers and manufactures drive systems for paper, metal and converting industries. With headquarters in Greenville Wisconsin QComp has sales and service offices in Wausau and Milwaukee, WI.
Featured Product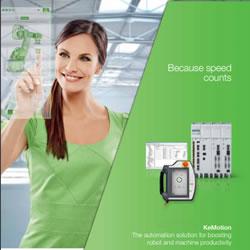 KeMotion stands for the fast, open and customizable automation of robots and machines in the Industry 4.0 era. Thanks to the scalable hardware in combination with many high-performance technology functions and turnkey software packages, the optimum solution can be created quickly and easily.