Customer care team dedicated to long-term partnerships for service and support
Grimsby, Ontario, Canada (July 17, 2012) - RMT Robotics® (www.rmtrobotics.com), a Cimcorp Oy company, announces the appointment of Andrew Bell as customer care manager. In this new capacity, Bell will lead the customer care team in developing long-term partnerships to provide enhanced service and support throughout the lifecycle of customers' robotic systems.

New to the customer care team, Bell has been a key member of the RMT team for five years as a project manager. His technical experience and dedication to customer success complement the professionalism and expertise of the customer care team. As customer care manager, Bell will continue to enhance the team's key service standards which include quick response times and immediate execution of service with the application of a resourceful approach and continuous customer feedback in order to provide first-class care.
"RMT Robotics' customer care team excels at providing quality and fast service and support to ensure maximum uptime and increased productivity," said Bell. "I am thrilled to join this exceptional team of knowledgeable and professional customer care staff."
About the Customer Care Team
The RMT customer care team is comprised of a dedicated and highly skilled group of field service technicians, software experts, customer care specialists, and parts and services professionals. From fine tuning equipment and responding rapidly in time-critical situations to training and mentoring staff, RMT's dedicated and knowledgeable customer care team is committed to being there whenever needed. The team builds long-term partnerships so that customers get the most out of their automated robotic gantry systems.
For more information, please contact Lori Vaughan, Marketing Coordinator, RMT Robotics, at lorivaughan@rmtrobotics.com.
For media information, please contact Kim Zdanowicz, public relations, Koroberi, Inc. (www.koroberi.com), by phone at +1 919-945-0548 or by email at kim@koroberi.com.
About RMT Robotics
RMT Robotics (www.rmtrobotics.com), a Cimcorp Oy Company, is a global company that manufactures and integrates turnkey robotic gantry-based order fulfillment and tire handling solutions designed to reduce operating costs and streamline operations.
To extend the flexibility of robotics beyond a fixed workspace, RMT Robotics also manufactures and integrates ADAM™, the category-defining autonomous mobile robot. The ADAM system redefines the purpose and function of industrial AGVs by performing intelligent robotic transport of materials in complex, random origin to random destination industrial environments.
Since 1981, RMT Robotics has been recognized around the globe as an innovator in robotics materials handling. RMT helps our customers compete in an increasingly aggressive and price-sensitive global marketplace by providing best-in-class robotic handling solutions.
For more updates, follow us on Twitter @RMTRobotics.
Featured Product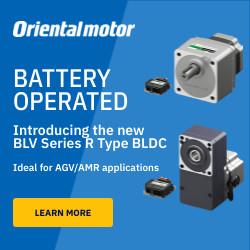 The BLE2 Series replaces our popular BLE Series and continues our brushless motor advantages by featuring an all new compact, high-power and high-efficiency brushless DC motor combined with a Driver that can be digitally set and controlled via external DC voltage or by the front panel. The BLE2 Series can easily compete with larger 3-phase inverter driven motors in many more applications, with built-in simple holding torque function, saving space and increasing performance thanks to the advantages of a brushless motor design. The BLE2 Series has a maximum speed of 4000 r/min, achieving a speed ratio of 1:50 (80 to 4000 r/min). The new motor structure is small than previous models and enables high power and high efficiency while incorporating easy setting, installation and wiring. The new motor connector offers IP66 degree of protection and allows for easy and direct connection between motor and driver with two available orientation of cable outlet direction. Standardized use of stain