Quantum International is currently scouting exciting new acquisition prospects to compete alongside these and other leaders in the booming robotics space.
July 19, 2012 HOUSTON--Robotic maids and intelligent toaster ovens may still be science fiction, but for how much longer? The kind of game-changing robotic innovations targeted by Quantum International Corp. (OTCBB:QUAN) for acquisition are already paying off for competing companies and their shareholders.

Amazon.com (NASDAQ: AMZN) recently demonstrated that robots are no longer limited to the realm of fantasy-today, they're capital investments. The online retail giant acquired Kiva Systems, the makers of automated warehouse "picking" bots, for $775 million. Someday soon, Kiva's robots could begin reducing Amazon's $3.5 billion in annual warehouse fulfillment costs.
"Amazon clearly sees the potential exhibited by the next generation of robotics solutions, and so does Quantum International," said Quantum CEO Robert Federowicz. "The future for the robotics industry is very bright, with an explosion of better, smarter automation technologies poised to revolutionize robotics just as Apple's iPhone technology revolutionized telecommunications."
Apple (NASDAQ: AAPL) technology may, in fact, be driving the next generation of consumer robotics. Boston's iRobot (NASDAQ: IRBT), famous for its line of Roomba vacuums, has turned its attention to the creation of "Ava," a five-foot, three-wheeled robot that uses an iPad as its brain and Xbox Kinect sensors as its eyes. Ava and her descendants could soon be seen working in offices all over the world as digital assistants.
Quantum International is currently scouting exciting new acquisition prospects to compete alongside these and other leaders in the booming robotics space. The company is currently conducting due diligence on a potential marketing and development deal with Poland's prestigious Industrial Research Institute for Automation and Measurements (PIAP), the producers of cutting-edge robotics for everything from anti-terrorism operations to disaster cleanup.
"There is no doubt in our minds that robotics will be the next tech sector to explode," Federowicz said. "We're working hard to position Quantum to capitalize on the coming robotics revolution just as Amazon and iRobot have done."
For more information on Quantum International's robotics initiatives, please visit http://www.quantuminnovators.com/investors.html.
Follow us on Twitter at www.twitter.com/QuantumIntlCorp.
About Quantum International Corp.
Quantum International Corp. (OTCBB: QUAN) is an emerging robotics innovation company working to commercialize the next generation of sophisticated, automated technology. The Company is positioning itself to develop, deliver and market the most cutting-edge innovations in robotics in order to leverage the worldwide demand for the precision, speed, and cost-effectiveness these technologies offer.
For more information about Quantum International Corp., please visit www.quantuminnovators.com.
Featured Product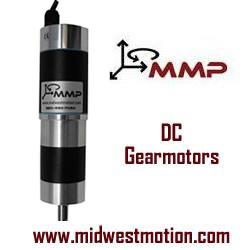 Midwest Motion Products, Inc. (MMP), is a well-established, healthy, & growing Family Owned Business, founded in 2001. MMP specializes in cost-effective standard DC Gearmotors, Motors, Controls, and ancillary equipment. Known world-wide for our "Lightning Fast" delivery capabilities, you can have a Standard Planetary or Right Angled DC Gearmotor BUILT and SHIPPED, often on the very same day you call. Offering Brushed and Brushless designs, with winding voltages ranging from 12 VDC to 120 VDC, we can deliver your "Robust & Reliable" samples within HOURS, instead of weeks, or even months.