Robot upgrades include semi-autonomous capabilities
BEDFORD, Mass.--iRobot Corp. (NASDAQ: IRBT), a leader in delivering robotic technology-based solutions, has received a $7.7 million order from the Naval Sea Systems Command (NAVSEA) for robot upgrades.

The order calls for iRobot Aware® 2 software upgrades and the delivery of advanced sensor suites for 248 fielded Man Transportable Robotic System (MTRS) MK 1 MOD 1 robots. MTRS MK 1 MOD 1 is modeled after the iRobot 510 PackBot®. The company expects to complete these deliveries by November 2012.
Sensor suites include the iWARVVS (iRobot Wide-Angle Robot Vehicle Vision System) camera, thermal camera and iRobot's User Assist Package (UAP). The cameras provide greater situational awareness through increased fields of view and imaging in low light environments. iRobot's UAP adds improvements to the operator control unit, GPS mapping and critical semi-autonomous features to 510 PackBot, including self-righting, retro-traverse and heading hold. These capabilities speed up operations and reduce workload for the operator, letting them focus on successful completion of the mission.
"iRobot is pleased the Navy is continuing to invest in its current fleet of robots. These upgrades will provide our troops with some of the most advanced, life-saving robotic technologies available today," said Tim Trainer, interim general manager of iRobot's Defense & Security business unit. "iRobot's UAP improves mission effectiveness while reducing workload and further minimizing operator exposure to dangerous environments."
iRobot has delivered more than 4,500 robots to military and civil defense forces worldwide. They are used to perform search, reconnaissance, bomb disposal and other dangerous missions.
About iRobot Corp.
iRobot designs and builds robots that make a difference. The company's home robots help people with smarter ways to clean, and its defense & security robots protect those in harm's way. iRobot's consumer and military robots feature iRobot Aware® robot intelligence systems, proprietary technology incorporating advanced concepts in navigation, mobility, manipulation and artificial intelligence. For more information about iRobot, please visit www.irobot.com.
Featured Product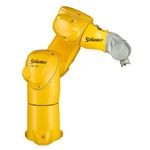 TX2 robots: redefining performance by offering collaborative safety and high performance in a single machine. These pioneering robots can be used in all areas, including sensitive and restrictive environments, thanks to their unique features. Safety functions are easy and inexpensive to implement. They allow a higher level of interactions between robots and human operators, while still guaranteeing protection of your people, production and investment.