Quantum is already pursuing potentially lucrative new robotics targets around the globe.
HOUSTON--Emerging robotics company Quantum International Corp. (OTCBB: QUAN) announced today that it is targeting the developers of advanced robots controlled using Apple (NASDAQ: AAPL) mobile devices including the iPhone and iPad.

With their groundbreaking combination of sensors, processing power, display and network connectivity, Apple smartphones and tablets include everything needed to function as compact, powerful robotic brains. The technology is already driving stunning new innovations in robotics, and Quantum's leadership is working to position the company to capitalize on the coming wave of highly sought automatons.
"The iPhone and iPad were breakthrough products that created their own market," said Quantum CEO Robert Federowicz. "The market for these devices didn't exist before they arrived. We believe the same will soon be said for the incredible robotics innovations using the same technology that are now on the drawing board."
New products such as Orbotix's Sphero toy and Parrot's AR.Drone 2.0 quadrocopter have proven the potential for mobile devices as robotics interfaces. Quantum International is currently seeking out early-stage developers for acquisition and joint venture that are capable of producing new robotics breakthroughs that leverage Apple's user-friendly mobile technology.
Quantum is already pursuing potentially lucrative new robotics targets around the globe. The company recently signed a letter of intent and began due diligence toward a definitive agreement with the Industrial Research Institute for Automation and Measurements (PIAP) in Warsaw, Poland. The company is focused on aggressive growth as it competes alongside robotics companies including Honda Motor Co., Ltd. (NYSE: HMC), AeroVironment, Inc. (NASDAQ: AVAV) and Intuitive Surgical, Inc. (NASDAQ: ISRG).
For more information on Quantum International's robotics initiatives, please visit http://www.quantuminnovators.com/investors.html.
Follow us on Twitter at www.twitter.com/QuantumIntlCorp.
About Quantum International Corp.
Quantum International Corp. (OTCBB: QUAN) is an emerging robotics innovation company working to commercialize the next generation of sophisticated, automated technology. The Company is positioning itself to develop, deliver and market the most cutting-edge innovations in robotics in order to leverage the worldwide demand for the precision, speed, and cost-effectiveness these technologies offer.
For more information about Quantum International Corp., please visit www.quantuminnovators.com.
Featured Product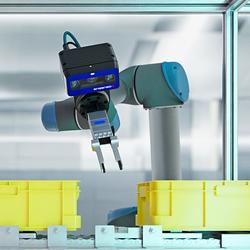 App Your Sensor®! What would smartphones be without apps? They would be mobile phones that can't do much more than make phone calls and sending SMS. Apps turn smartphones into intelligent assistants with any number of different tasks. Transferred into the world of image processing, this app-based approach transforms cameras and sensors into customised, smart vision sensors.