AHRS-8 will be on display at AUVSI's Unmanned Systems North America August 6-9, Booth #3436
Unmanned Systems North America 2012
DE LEON SPRINGS, Fla.--Sparton Corporation (NYSE: SPA) will introduce AHRS-8, a highly advanced navigation sensor that enhances a best-in-class product line at AUVSI's Unmanned Systems North America symposium August 6-9, 2012 in Las Vegas, Nevada. AHRS-8 is a MEMS-based (micro electro-mechanical systems) attitude heading reference system. Fully temperature compensated and individually calibrated over temperature, the AHRS-8 is the perfect navigation solution for challenging environments requiring the highest level of accuracy. AHRS-8 complements Sparton's full line of navigation sensor solutions designed specifically to meet systems designer's stringent requirements.
"The AHRS-8 product will provide customers superior accuracy and stability at temperature extremes and offers the advantages of our revolutionary AdaptNav II™ sensor fusion algorithm," said Jim Lackemacher, Vice President and General Manager of Sparton Navigation and Exploration division. "AdaptNav II™ provides a whole new level of navigation sensor performance in environments where electro-magnetic noise is present."
Jim also adds, "Sparton's navigation sensors are the only products of their kind to provide full in-sensor programmability via the NorthTek™ Development System, and incorporates electro-magnetic disturbance compensation for both in-platform and transient disturbances."
"We invite our customers to see for themselves how Sparton's Navigation and Exploration business is taking a leading role in navigation sensor technology for some of the most challenging applications," said Cary Wood, president and CEO, Sparton Corporation.
Features of AHRS-8 :
*AdaptNav II™ adaptive algorithms provide real-time optimization of navigation sensor performance in varying electro-magnetic and dynamic operating environments
*Fully temperature compensated and individually calibrated over the -40⁰ to +70⁰ C operating range, providing industry leading heading accuracy in a broad range of environments
*Powerful user sensor customization via the NorthTek™ Development System
*User selectable gyro and accelerometer dynamic range
*Low power, with power management capability (sleep mode)
*True North heading output via built-in World Magnetic Model
*Robust, fully encapsulated design
Sparton AUVSI 2012 Events Schedule:
*Live demonstrations will be held to demonstrate the best-in-class navigation sensor technology Tuesday, August 7 at 1:30 pm, Wednesday, August 8 at 12:45 pm and Thursday, August 9 at 1:30 pm PDT.
*Sparton Corporation will be featured at "Beyond the Showcase" Wednesday, August 8 at 11:30 am PDT.
*Throughout the show, Sparton will demonstrate the AHRS-8 in real operating environments at its booth.
Visit us at www.spartonnavex.com for additional product information, and to purchase the full line of Sparton Navigation and Exploration navigation sensor products.
About Sparton Corporation
Sparton Corporation (NYSE:SPA), now in its 112th year, is a provider of complex and sophisticated electromechanical devices with capabilities that include concept development, industrial design, design and manufacturing engineering, production, distribution, field service, and refurbishment. The primary markets served are Medical, Military & Aerospace, and Industrial & Instrumentation. Headquartered in Schaumburg, IL, Sparton currently has five manufacturing locations worldwide. Sparton's Web site may be accessed at http://www.sparton.com.
Featured Product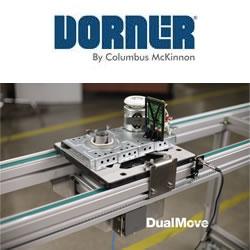 Dorner's 2200 Series Precision Move Pallet Systems are ideal for assembly automation. With features such as an innovative timing belt conveyor design and industry best pallet transfers, they get your product to the exact location, at the exact time and in the exact position it needs to be. They are now available with new options such as heavy load corner modules with 150 lb. capacity and 180 degree tight transfer corners for compact loops.