Highlights: Unprecedented intuitive control and human-like dexterity for mobile robotic systems.----- Immersive force-feedback enables operators to "feel" objects as they work from a safe distance.----- Modular family of next-generation Unmanned Ground Vehicle systems and retrofit kits.
AUVSI 2012

Harris Booth #2846
LAS VEGAS--Harris Corporation (NYSE:HRS), an international communications and information technology company, will demonstrate its new RedHawk™ system used for remotely disarming improvised explosive devices (IEDs) during the AUVSI Unmanned Systems North America conference in Las Vegas, Nevada, August 6-9.
Designed using input from hundreds of Unmanned Ground Vehicle (UGV) operators, RedHawk is tailored for the demanding missions of explosive ordnance disposal technicians and first responders. RedHawk's intuitive haptic feedback enables operators to "feel" objects remotely as they manipulate and disarm IEDs. It provides users with the intuitive control and feedback that enables human-like robotic manipulation while keeping operators out of harm's way. Haptic technology takes advantage of the sense of touch by applying forces, vibrations, or motions to the user.
The RedHawk family of solutions consists of a modular, expandable system of wireless haptic controllers, precision manipulators, UGVs and accessories that can be adapted for specific missions. The RedHawk MP-R is a bolt-on retrofit solution that can be added to the more than 7,000 UGVs already operating in the field. RedHawk AGS is a highly-integrated UGV system based on an advanced mobility platform.
"RedHawk's haptic control technology reduces operator workload, preserves forensic evidence, and provides such realistic, intuitive feedback that operators can pick out an individual wire in an IED," said Bill Gattle, vice president, Aerospace Systems, Harris Government Communications Systems. "Our goal is to push this technology forward so that one day no one will ever have to walk up to an explosive device in order to neutralize it."
For more information, visit robotics.harris.com.
About Harris Corporation
Harris is an international communications and information technology company serving government and commercial markets in more than 150 countries. Headquartered in Melbourne, Florida, the company has approximately $6 billion of annual revenue and about 17,000 employees - including nearly 7,000 engineers and scientists. Harris is dedicated to developing best-in-class assured communications® products, systems, and services. Additional information about Harris Corporation is available at www.harris.com.
Featured Product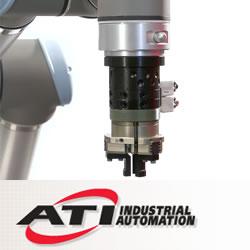 The ATI Robotic Tool Changer provides the flexibility to automatically change end-effectors or other peripheral tooling. These tool changers are designed to function reliably for millions of cycles at rated load while maintaining extremely high repeatability. For this reason, the ATI Tool Changer has become the number-one tool changer of choice around the world. ATI Tool Changer models cover a wide range of applications, from very small payloads to heavy payload applications requiring significantly large moment capacity.