Abbott's new DC-DC converters deliver superior product versatility with quick turn modifications to tune devices to exact customer requirements.
Sun Valley, CA, August 09, 2012 - Abbott Technologies, Inc. now offers a range of DC-DC converters designed with the latest components for aerospace, military, and industrial applications. Units accept inputs of 18-72V, 270V, 200-340V and 300-420V and deliver customer specified outputs from 2.5V to 48V. These devices can achieve efficiencies up to 95 percent with full power ratings to 1kW over an operating range of -55 to +100C baseplate. Advanced features include parallel operation, current sharing, and an array of built-in test features to ensure reliable operation.

"Abbott's focus has always been customer satisfaction and product reliability. Our goal with the DC-to-DC product line is to deliver on time the most versatile DC-to-DC converters on the market without reducing reliability customers have come to expect from Abbott," said K.M. Batte, President at Abbott Technologies. "Our customers can't always meet their requirements with rigid off the shelf product so Abbott products are designed with flexibility in mind. Our highly experienced engineers make adjustments to our fundamental design to meet precise customer needs. Our converter designs are capable of quick turn modifications that allow for a responsive delivery schedule."
Founded in 1961, Abbott Technologies designs and manufactures power conversion products that set the industry standard for ultra-high reliability and advanced technology suited to the demanding applications, space requirements, and environmental conditions required by the military, aerospace, communications, transportation, mining, and energy industries. Our power conversion solutions combine an extensive standard product line with the flexibility to meet program specifications. Abbott Technologies is an SBA certified Woman Owned Small Business, building on an unsurpassed 50-year reputation with customers around the world for producing the most reliable power conversion solutions on the planet.
Featured Product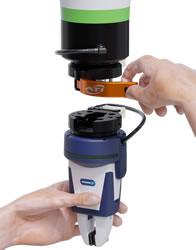 Simpler, stronger, and more precise. ATI Industrial Automation has developed a series of Manual Tool Changers that provides a cost-effective solution for quickly changing tools by hand. They feature a unique design that combines high strength, excellent repeatability, and a patent-pending screw-cam locking mechanism with multiple fail-safe features, which resists vibration and prevents loosening. These robust and compact Manual Tool Changers can handle payloads up to 80 pounds (36 kg) and pass pneumatics and electrical signals.