EPSON Robots New Website - Sleek, Interactive and Easy to Use
Carson, CA - EPSON Robots, a global leader in advanced robotic technology, announces the launch of their new and improved website at www.epsonrobots.com. The new look website is a sleek, interactive and easy to use hub of EPSON Robots information with enhanced new features to help our customers locate exactly what they require for their automation projects.

"EPSON Robot's website has been completely redesigned with improved structure and intuitive navigation" stated Michael Ferrara, Director of EPSON Robots. "The new site reflects our identity in the robotics industry as a world leader in advanced automation technology. Our global expertise is in providing our customers with the tools and support they need to automate manufacturing processes and achieve higher productivity in their customized robotic solutions. EPSON Robot's reputation is built on the high quality of our products and services so it is important for us to supply our customers with the latest information on products as well as support. Our new website not only does this, but it also allows our customers to find the best robotic tools and solutions for their automation requirements with utmost ease of use."EPSON Robots Launches New and Improved Website
The new site features a "Toolbox" section which was created to give customers and those interested in EPSON robots a place to collect information they need to make informative decisions. Information on our complete product lineup of SCARA, 6-Axis and Linear Modules as well as our powerful Controllers and Options are included. The "Toolbox" is loaded with essential materials such as 3D-CAD files, application videos, whitepapers, case studies, product brochures, photos and manuals.
We also included a "Solutions" section for a variety of applications in industries such as automotive, medical, electronics, consumer, industrial, food and lab automation. Customers are able to study the different applications we have worked on within each industry and see available videos, photos and case studies. At EPSON we are dedicated to helping manufacturers succeed in building the best products with superior throughput using advanced automation technology. The automation solutions section of the website shows customers that we have either done their application before or have done something similar so chances are that EPSON Robots has the right products for their application.
Visitors to our website can look up EPSON Support and learn about our commitment to providing the best technical support in the industry. Application support, customer service, training classes/videos and software updates are included here as well as the continually growing "Knowledge Base" which features commonly asked questions for quick and easy trouble shooting.
To make it easy to get more information, the new website is fully equipped with online forms for requesting quotes and literature. Contact information for our Regional Sales Managers and Distributors is also available where visitors can contact their local EPSON Robots Account Manager or Distributor directly for further information. The interactive map of North America makes it easy for our customers to find the right EPSON contact based on their geographic location.
The new website will continue to be expanded and updated with the latest EPSON Robots news updates, product information, videos, photos, support materials and much much more
EPSON Robots is the global leader in PC controlled precision factory automation, with an installed base of over 26,000 robots and a product line of hundreds of models of easy to use SCARA, Cartesian and 6 axis robots based on a common PC based platform. Building on a 27 year heritage, EPSON Robots today delivers robots for precision assembly and material handling applications in the aerospace, appliance, automotive, biotechnology, consumer product, electronics, food processing, medical device, pharmaceutical, plastics, semiconductor, and telecommunication industries.
Featured Product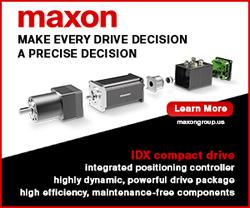 Discover the world of drive technology from a leading worldwide supplier of innovative customized drives. - Manufacturer of brushed and brushless DC motors, gearheads and motion controllers - Custom drive systems, quantities as low as a single unit - Certified for aerospace and medical applications