This is an exciting development for food processors
PLEASANTON, Calif., Aug 8, 2012 -- Adept Technology, Inc. ADEP 0.00% ,a leading provider of intelligent robots and autonomous mobile solutions, announces the introduction of the new Adept ClamPAC(TM) at Pack Expo booth #S-1454. This robotic Packaging Automation Cell, which gently packs clamshells into cases at high speeds, is designed to reduce the total cost of ownership by delivering a standardized, fully-integrated solution that can be dropped into any line. ClamPAC reduces the food processor's integration complexity and deployment time while providing the flexibility, dexterity and speed of a world-class robotic solution.

The launch of ClamPAC marks the first product to be released by Adept's new packaging solutions group. The group is focused on delivering standard pre-engineered cells that perform specific application tasks. Each model of Packaging Automation Cells, including the Adept ClamPAC, is built upon Adept's intelligent robotic products.
ClamPAC is a standardized modular system that Adept Packaging Solutions adapts to each customer's production line. Before delivery, customer-specific modifications are made based on the size and design of the clamshells, the case sizes and the speed of the line. This approach makes it faster and more cost effective for customers to deploy a robotic solution for case packing clamshells.
"This is an exciting development for food processors. It is the first robotic solution in the world to be pre-engineered and standardized to case pack clamshells," said John Boutsikaris, Senior Vice President of Sales and Marketing at Adept. "We're getting great feedback from customers who have installed ClamPAC about its ease of deployment and ease of use as well as its gentle handling and reliability."
Key to the unique design of ClamPAC solutions are the new SoftPIC(TM) grippers and graspers. Adept selects the ideal SoftPIC grippers or graspers specifically for each customer's range of products. Made of soft silicone that conforms to the shape of the clamshell, SoftPIC grippers provide a direct vacuum path to the product, helping the system achieve gentle handling and reliable operation at very high speeds. For lines that package multiple clamshell sizes and/or designs, the SoftPIC grippers can be changed in less than two minutes.
For more information on the ClamPAC, SoftPIC, and other packaging related products, visit http://www.adept.com/solutions/packaging-solutions .
About Adept Technology, Inc.
Adept is a global, leading provider of intelligent robots and autonomous mobile solutions and services that enable customers to achieve precision, speed, quality and productivity in their assembly, handling, packaging, testing, and logistical processes. With a comprehensive portfolio of high-performance motion controllers, application development software, vision-guidance technology and high-reliability robot mechanisms with autonomous capabilities, Adept provides specialized, cost-effective robotics systems and services to high-growth markets including Packaging, Medical, Disk Drive/Electronics, and Solar; as well as to traditional industrial markets including machine tool automation and automotive components. More information is available at http://www.adept.com .
Featured Product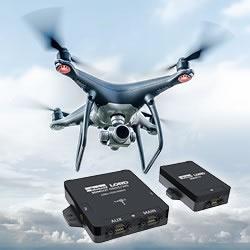 The C-series high performing inertial sensor package provides an OEM form-factor that is optimized for size and weight in Off Highway, Unmanned Ground Vehicles/Mobile Robots and Unmanned Aerial Systems. It's compact and low-profile anodized aluminum housing can be connected directly to a printed circuit board using a UART header or a Samtec FFSD ribbon cable and 2-56 fasteners.