Additional Reconnaissance Robots Sent to U.S. Forces in Afghanistan
Reston, VA- QinetiQ North America (QNA) has received a $4.3M order for additional Dragon Runner 10™ (DR-10) robots to provide near term operational support to the U.S. Marine Corps. This urgent order for QNA's lightweight, throwable robots follows two previous DR-10 orders to support both the U.S. Army and U.S. Marine Corps.

"DR-10 weighs about ten pounds and fits in a rucksack. This rugged, tactical robot provides immediate intelligence, surveillance and reconnaissance support to dismounted warfighters," said QNA's Technology Solutions Group President J.D. Crouch. "With hundreds of DR-10s already in theater and today's order for more, this little robot is doing a lot to support critical missions and save lives."
DR-10's rugged design enables warfighters to remotely drive, or even throw, the robot into dangerous areas to provide immediate visual reports from day and night sensors. This detailed information about unseen threats helps improve mission strategy and increase warfighter safety.
QNA has delivered approximately 4,000 unmanned ground vehicles to security and defense forces worldwide. From the rugged TALON® and Dragon Runner robots to the Bobcat Engineer™ and Raider™ unmanned vehicles, QNA offers a full range of durable, reliable and flexible unmanned systems from 10-12,500 pounds. QNA's family of robots includes small, medium and large unmanned vehicles that can be configured for specific tasks such as IED defeat, CBRNE/hazmat detection and identification, reconnaissance, combat engineering, materiel delivery and SWAT/MP unit assistance. Whether the mission is to support a bomb squad protecting life and property in an urban environment or a dismounted warfighter assessing threats, QNA delivers.
QinetiQ North America's Technology Solutions Group, part of QinetiQ's Global Products division, is a world leader in robotic technology solutions that save lives in defense, security and first responder environments. For more information, please see our website www.qinetiq-na.com, read our blog techblog.qinetiq-na.com and follow us on Facebook www.facebook.com/qinetiqnarobots or Twitter www.twitter.com/qinetiqnarobots.
About QinetiQ North America
QinetiQ North America (QNA) is a subsidiary of QinetiQ Group plc, the FTSE250 company listed on the London Stock Exchange (LSE:QQ.L). Operating in North America, QNA delivers world-class technology, responsive services, and innovative solutions for global markets, focusing on U.S. government and commercial customers. Its engineers, scientists and other professionals deliver high quality products and services that leverage detailed mission knowledge and proven, reliable tools and methodologies to meet the rapidly changing demands of national defense, homeland security and information assurance customers. QNA is headquartered in McLean, Virginia. For more information visit www.qinetiq-na.com.
Featured Product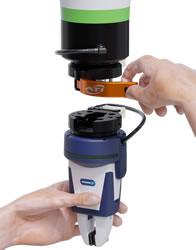 Simpler, stronger, and more precise. ATI Industrial Automation has developed a series of Manual Tool Changers that provides a cost-effective solution for quickly changing tools by hand. They feature a unique design that combines high strength, excellent repeatability, and a patent-pending screw-cam locking mechanism with multiple fail-safe features, which resists vibration and prevents loosening. These robust and compact Manual Tool Changers can handle payloads up to 80 pounds (36 kg) and pass pneumatics and electrical signals.