High Voltage gas-insulated switchgear to support expansion of grid capacity
Zurich, Switzerland, Aug. 6, 2012 - ABB, the leading power and automation technology group, has won an order worth over $40 million for high-voltage gas-insulated switchgear from the Al Toukhi Group, a leading engineering, procurement and construction (EPC) company. The order was booked in the second quarter.

ABB will supply 420 kV GIS equipment that will form an integral part of the New Muhayil West and Al Omran substations being built for Saudi Electricity Company (SEC), the country's national power transmission and distribution operator. The substations are scheduled to be energized in June 2014.
Al Omran, located in the eastern part of Saudi Arabia, is part of the Qurayyah Independent Power Project (IPP). New Muhayil, connected to the Shuqaiq and Namera North transmission network, is being constructed to meet the rapidly growing demand for electricity in the southwestern part of the country.
"The new substations where this GIS equipment will be installed, will enhance power capacity and help meet growing electricity demand to support industrial development in the country" said Bernhard Jucker, head of ABB's Power Products division.
Saudi Arabia accounts for around half of the total electricity consumption in the GCC (Gulf Co-operation Council) region. Economic growth, led by the oil and gas sector is driving the development of power infrastructure to secure electricity supplies.
In line with its business philosophy to locate production and service facilities closer to our customers, ABB recently announced a $40 million investment for the construction of a new manufacturing plant for high-voltage GIS and transformer service workshop in Saudi Arabia.
ABB pioneered high-voltage GIS in the mid-1960s and as a market leader, continues to drive technology and innovation, offering a full range product portfolio with voltage levels from 72.5 kilovolts (kV) to 1,200 kV. The compactness, low-weight and robust design features enable the equipment to be deployed in constrained spaces and harsh conditions to enhance grid reliability and efficiency with minimum maintenance needs.
ABB (www.abb.com) is a leader in power and automation technologies that enable utility and industry customers to improve their performance while lowering environmental impact. The ABB Group of companies operates in around 100 countries and employs about 145,000 people.
Featured Product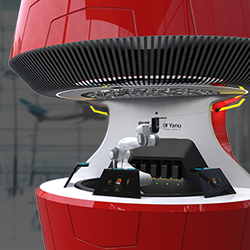 In the past few years, consumer demand and the emergence of smart products have pushed manufacturers to explore radical new ways to create value.However, designers and engineers can't approach robotics development in the same old way. Instead, they are leveraging new techniques to meet today's challenges. This eBook discusses three trends and the resulting product development needs for robot devices and systems.