New product designed for medical, packaging applications
WHITE PLAINS, N.Y.--ITT Corporation's (NYSE: ITT) Torque Systems brand has long provided engineered motion control and automation products for a variety of industries. It is now expanding its line of high-quality and reliable products by launching an automation grade brushless servo motor designed for medical and packaging applications.

A servo motor provides automated equipment with the speed and motion control necessary to function efficiently and reliably, based on feedback from other machinery components. Medical automation applications for the new servo motor include surgical robotics, diagnostic machines and analyzers, while packaging automation applications include bottle capping and package filling and labeling.
"ITT manufactures products and solutions for key end markets, and these technologies are recognized industry-wide for their quality, reliability and overall value," said Jeff Weisbeck, director, product management and sales, for ITT's Control Technologies business. "With this new line of servo motors, we are enhancing our ability to serve the needs of our customers."
ITT's Torque Systems brand's engineered motion control and automation products include AC and DC servo motors and incremental encoders in addition to its line of brushless motors and direct drive sets. For more information, visit www.torquesystems.com
About ITT
ITT is a diversified leading manufacturer of highly engineered critical components and customized technology solutions for growing industrial end-markets in energy infrastructure, electronics, aerospace and transportation. Building on its heritage of innovation, ITT partners with its customers to deliver enduring solutions to the key industries that underpin our modern way of life. Founded in 1920, ITT is headquartered in White Plains, N.Y., with employees in more than 30 countries and sales in a total of approximately 125 countries. The company generated 2011 revenues of $2.1 billion. For more information, visit www.itt.com.
Featured Product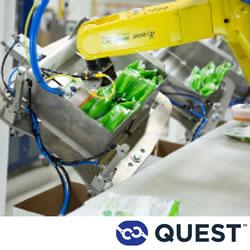 Quest is a leading manufacturer of industrial automation equipment focusing on robotics and vision-guidance. With expertise in the food, beverage, and dairy, Quest optimizes floor space for customers experiencing growing demand and helps improve their overall production line flexibility and efficiency. Quest offers application-specific software on their robotic products, including pick and place, case packing, and palletizing systems to simplify system setup and streamline configurability. Quest is a product brand of ProMach, a global leader in packaging line solutions.