Tom Pollard presents with commentary from former director of information technologies, Brewers Distributor Ltd. Tuesday, Oct. 16, 2012
Grimsby, Ontario, Canada (August 14, 2012) - RMT Robotics® (www.rmtrobotics.com), a Cimcorp Oy company, is pleased to present "The Case for Robotics: A First Look the 2012 Automation of One of North America's Largest Beer Distribution Centers" at the National Beer Wholesalers Association's (NBWA) Annual Convention at 2:00 p.m. on Tuesday, Oct. 16, 2012 in San Diego, Calif.

Tom Pollard, P. Eng., application engineer, Automated Warehousing Systems, RMT Robotics, will be speaking with commentary from the former director of information technologies, Brewers Distributor Ltd. (BDL). The seminar presents an in-depth look at the groundbreaking automation, including the decision-making process, the pros and cons of implementation, the justification and the extended factors that drove the automation of one of North America's largest beer distribution centers.
"We are looking forward to presenting one of this year's NBWA educational seminars," said Pollard. "It's an excellent opportunity to inform beer distributors about how robotic gantry systems can improve their distribution facilities and to discuss our latest installation."
RMT Robotics will have a booth at the convention. RMT representatives will be available to discuss their robotic gantry case and layer picking solutions as well as new designs for affordable solutions for smaller distribution centers. Visit RMT Robotics at Booth #511 where they will also be displaying a video of the automation at BDL.
The NBWA 75th Annual Convention takes place Oct. 14-17, 2012 at the Manchester Grand Hyatt San Diego.
For more information, please contact Lori Vaughan, marketing coordinator, RMT Robotics, at lorivaughan@rmtrobotics.com.
For media information, please contact Kim Zdanowicz, public relations, Koroberi, Inc. (www.koroberi.com), by phone at +1 919-945-0548 or by email at kim@koroberi.com.
About RMT Robotics
RMT Robotics (www.rmtrobotics.com), a Cimcorp Oy Company, is a global company that manufactures and integrates turnkey robotic gantry-based order fulfillment and tire handling solutions designed to reduce operating costs and streamline operations.
To extend the flexibility of robotics beyond a fixed workspace, RMT Robotics also manufactures and integrates ADAM™, the category-defining autonomous mobile robot. The ADAM system redefines the purpose and function of industrial AGVs by performing intelligent robotic transport of materials in complex, random origin to random destination industrial environments.
Since 1981, RMT Robotics has been recognized around the globe as an innovator in robotics materials handling. RMT helps our customers compete in an increasingly aggressive and price-sensitive global marketplace by providing best-in-class robotic handling solutions.
For more updates, follow us on Twitter @RMTRobotics.
Featured Product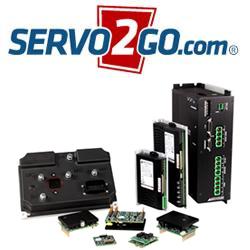 Engineered to drive brushless and brush servomotors in torque, velocity or position mode, Servo2Go.com offers a broad selection of servo drives in a wide range of input voltages and output power levels.